Hi Guys,
So after a while of searching and debating if we should do it or not, me and some mates have decided that we are going to buy a Gen 2 Lib and WRX convert it!
Ive never even taken an engine out of a car so this will be a first for me and im very very excited. 
I think we lucked out a little and picked up a 1998 RX Bilstein Edition for $500.00 from the North Shore in NSW.
The car was out of rego (only a month out), has a hole in the exhaust, electrical issue with the front left headlight, rust around the back window and surface rust underneath the back of the car. 
Other then that, it runs fine!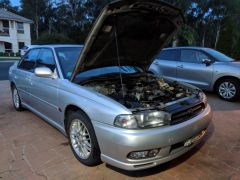 Its got dents and pretty bad paint but i think me and the boys will be able to fix it and if we cant then ill just get it resprayed 

First thing i needed to do was to get the car back to the Hills District which is about 40km away. 
After failing a pink slip attempt, i hired a trailer and was able to tow Jeff back to my house (i need to find the photos for this). 
After a clean inside and out the car was already looking alot better. The interior is in pretty good condition for the age but i will be looking to replace the front seats as they are abit torn.
On the weekend, i got stuck into trying to get the minor issues fixed so we can get the car registered again.
Saturday was a really unsuccessful day after getting new globes for the headlights (which didnt change anything), getting a really really awful Jack and getting the wrong type of sandpaper to get rid of the surface rust under the car 

Sunday was a different story! My mate Pat (Patrick27s on the Forums) came over and we were able to get a general idea what was needed to get all the lights fixed and what we needed to kill the rust. 
One short trip to supercheap auto, repco and bunnings later, we had a new Jack (thank god) and a lot of new globes (we found out that both the Parking lights werent working and there was a blown fog light) we got to work and was able to get all the lights working, even the headlight! Turns out the wiring on the left headlight was pretty bad so after some work from Pat (u da best) he was able to get it all working!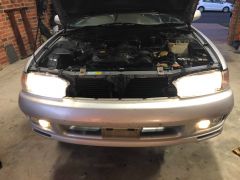 We got some sanding tools from Bunnings and started attacking the back of the car. Didnt take that long which was nice and then we gave it a nice spray of black and sliver for the diff.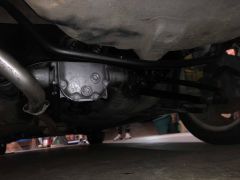 Only thing left is the hole in the exhaust which we will deal with later. 
After discussing with the boys, looks like we are going to try and convert the car 2 weeks from now!
We will have my garage free for a month (thanks mum and dad) so we are going to try and complete the project 4 weeks and i am very excited!
We have decided that we are going to try do everything ourselves (except maybe the wiring loom merger) and we are now searching for a donor car to make our lives easier and means we dont have to get everything seperatly which would be much more expensive. 
Currently, bugeye wrx seems like the cheapest and easiest option with alot of the parts being compatible with the lib! 
I will make a post when more progress is made but any advice or tips from anyone who has done the same conversion would be awesome!
Thanks!
Ciaran
(heres some more pics of the car)