Just re-edited this to clean the post up a bit...
 
Current - 23/6/13
 



MODS:

Engine/Performance

EJ205
Manley Forged Rods
CP Forged Pistons
ARP Head Studs
ACL Bearings
Cometic Race Gaskets
KLS TD05-20G
FMIC
Custom Tuned Length Headers
3 Hi-Tech Turbo Back Exhaust
Prodrive Stage 2 Muffler
EMS EM-Mech EM80 ECU
Turbosmart Fuel Pressure Regulator
Turbosmart eBoost Street Boost Controller
Greddy/Trust Turbo Timer
Greddy/Trust Type RS BOV
Bosch Fuel Pump
MSD Coilpacks
ARC Oil cooler
Blitz 1.3 Bar Radiator Caps
Carbon Fiber Cam Belt Cover
Apexi POD Filter

Drivetrain:

MY03 WRX 5 Speed Box
Exedy Clutch
Extreme Lightened Flywheel

Suspension/Handling

MD Coilovers
Cusco Front Strut Brace with Brake Cylinder Stopper
Prodrive Rear Strut Brace
Prodrive Lower Chassis H-Brace
White Line Front and Rear Heavy Duty Sway Bars inc Links

Brakes

MY99 STI 4 Pot front and 2 Pot rear Brakes
Kartboy Dogbones
Galfer Brake Pads

Exterior

Rays/Volk Racing SE37 17 x 7.5 Matte Black
BuddyClub P1 Racing 18" x 7.5" Matte Black
Project Mu  Forged Wheel Nuts
Ganador Aero Mirrors
Hippo Sleek Front Grill
Talon Rear Spoiler
JDM Projector Headlights
Clear Side Repeaters
20% Tints

Interior

Auto Metre Boost, Oil Pressure and Water Temp Gauges
GC8 Seats
STI Pedals
Momo Shift Knob

Enjoy



August 2006 I decided to part ways with my Audi and purchase a subaru. Ive always like the libertys and wed always had at least one in the family so from what Id seen, I figured they were a good sound car. At this point I had absolutely no plans to mod the car at all...until I discovered ozliberty.

The day I bought her. 1998 Subaru Liberty Heritage




So after a few months I decided that what the hell, I might get it lowered, tinted and get some rims for it. I went out to Tempe Tyres and picked out a set of K-Speed Nitros in 17 x 7 in black with chrome lip from the big wheel wall which was exciting as it was the first after market item id bought for the car. I got it lowered on Pedders springs down at Cromer Exhaust. I also came across a set of clear side indicators on ebay that I bought. Tints by Solar Tint Artarmon. That was the start of what would turn out to be a very expensive hobby...




It was about this time that Jarrod had just had his car converted to turbo by AM Auto so he had a his old headers and exhaust left over that I purchased from him. This would be the first of many exhaust modifications that I had done to it. I also got an intake pipe made up to replace the factory air box and pipe. I put on an Apexi pod from Japanparts as well.

For a bit of extra chassis stiffening i added GCD Prodrive front and rear strut braces.

Tuffy mufflers in Rosebery were the first to do my exhaust for me. Pulled out the ridiculous stock exhaust that has the bend up over the cross member and put on Jarrods headers. Originally we had a straight through 2 1/2 centre pipe with no cat which went into a x-force cannon muffler. That was changed several times including cats, hot dogs, 2 1/4 centre pipes, different mufflers etc etc until it stayed at headers > 2 1/4 centre pipe, cat, hot dog resonator and GD STI muffler.




Next thing was a couple of new grills. One was an RFRB front grill from EKW in Melbourne and the other was a replica Hippo-Sleek grill from Japan via ebay again. Also added was a set of 4 pot front and 2 pot rear callipers from Akira Imports. Adam from Tuspeed helped me out with the rear dogbones by ordering me a set from Kartboy. The GT/RSB bonnet also came from EKW




The next thing to happen to the car was a run in with those orange lane divider poles that split the lanes coming up to the toll booths on the Sydney Harbour Bridge. I took evasive action to avoid an accident and thinking those pole bend over (they dont), drove straight over them which caused some minimal but annoying damage to the front end. The dented the front bar, both front guards, bonnet and punctured a nice hole in the exhaust.




Got the front end fixed by Shane at A&J Smash Repairs through insurance. Really happy with the job he did and I was planning on getting the front bar re-sprayed anyway so it kinda worked out. Since the paint was already mixed i got him to spray the Talon rear spoiler i got from Kenan. I actually bought an extra front bar at about the same time from Darren (The Game King

) with reo and JDM foglights that he had left over from a front cut.

I decided it was time for a change of wheels. Id had the K-Speeds on for a year and a half so felt I needed something new to look at. Ive always loved Rays TE37s but at the time they were a bit out of my price range. Aydin had just scored a set of Starcorp 19s for his Gen 3 and had a set of BSA AU Racing TE37 replicas in 18 x 7.5 that I happily took off his hands.




When I got my tax return I decided to spend it on another exhaust modification. I still wanted more of a boxer sound from it so this time took it to Hi-Tech mufflers in Darlinghurst. From the headers back we did a 2 1/2 exhaust with a hi flow cat and oval sports muffler with Hi-Tech replica STI tip. It came up a treat!!




Apart from a few more cosmetic things like STI pedals from Japanparts and Legacy rear garnish from EKW not much happened for a while until I started talking to Dylan and seeing all the boosted goodness out at hooters every month. I thought id lined up a 2001 drive line from a mate who wrote off his car but that ended up falling through.

It wasnt till 6 months later that I decided to bit the bullet and do a turbo conversion. I lined up a 2001 gtb halfcut from Patrick at General Japanese Spares in Landsvale and had them drop it off to Frank, Louie and Paul at A & B Motorsports. Ill cut a long story short (if anyone wants details pm me and Ill give you the full run down), this conversion ended up being a nightmare. We had so many set backs and everything that could go wrong did. In the end this is what we ended up with.

EJ20TT converted to a single turbo running a KKR-380. The brains of the operation is a Haltech E6X ecu. Stainless steel tuned length headers with custom up pipe, dump pipe and 3 exhaust flowing into a Prodrive stage 2 muffler. It also has a FMIC and K-Sport pod filter. Scott swapped me my old shocks for a set of MD coilovers which are handle really nicely. A lot of work went into the gear box including a custom valve body and a B & M Pro racing ratchet shifter. Dont ask why. Planning on doing a regular manual conversion at tax return time but might keep this a back up..or for the 1/4 mile haha. Damo hooked me up with a JDM carbon fibre gauge pod (that I filled with Autogauge Boost, Air/Fuel, Water Temp and Oil Pressure gauges) genuine hippo-sleek front grill and some ganador mirrors that he sent over from Japan. I got some GC8 rex seat that have been recovered in black and white perforated leather as well. Put in a Cucso strut brace with brake master cylinder stopper, oil catch can and turbo smart manual boost controller also.




Twin Turbo:




Single Turbo:




Interior:




Stavros was cleaning out some of his old stuff from under the house so I scored a set of Rays Volk Racing SE37s to boot!!




Andy was also off loading a set of Bridgestone forged wheels from Japan so I grabbed them as well to keep as a second set.




Finished:




This Dyno reading was on 10psi with standard fuel delivery system and 2 1/2 exhaust.




It didn't take long for something to go wrong unfortunately. On the first cruise cruise i went on (two days after getting it back on the road), which was up to Newcastle i snapped a rear drive shaft on the way home on the M3. It was pissing down and try as we might we could not get that shaft removed with the limited tools we had available. The shaft snapped at 7pm and i didn't get home till around 3am. Caught what i thought was my death cold as well...




Since this the ring on the 4th piston went so have had to start over with the engine. I meow have a JDM 2001 rex block going in tomorrow. Parallel fuel rails, fuel reg, fuel pump, surge tank and 660cc injectors are also going in. Am looking forward to seeing what she can do on the dyno this time with the boost wound up and the exhaust done.

Andy recently had a trip over to JDM land and got me some STI centre caps for my Rays from Subaru in Japan when he was just there



I actually ordered some Morette headlights direct from the factory in the UK but due to the global financial situation some of their suppliers have gone broke so they have stopped production until things over there get better. Dylan the goat herder hooked me up a mint set of projectors and i've got some HID's that i'll put in when i get around to it...




Intake manifold came up better than i expected...




Back together:




Into the car today:




Exhaust done meow:




Just waiting for the injectors to turn up. The surge tank arrived today so will all go in and get tuned up tomorrow.

Update: 17/7/09

So yeah not sure how many of you know but to add to the list of aids related failures Ive had with my car lately, I blew a head gasket the other week. Since the engine is out and in pieces weve decided to rebuild it and fill it with some stronger bits and pieces...

CP oversize forged pistons
CP chromoly rings
STI forged rods
Cometic MLS gaskets
ARP head studs
ACL bearings
Bore and hone engine block

Parts were ordered yesterday so hopefully it arrives today and we can start building it up next week. Pics and more info to follow.

Update: 05/9/09

Got car back today and starting the engine run in. 1000km at 6psi and 4000rpm rev limiter




Update 13/9/09

Went for the SC photo shoot today. Cruising past rhodes and BANG, front diff exploded.




Picked up an 02 rex box today with everything for the manual conversion. Hopefully everything starts going on Wednesday.

Update: 21/10/09

So the gear box is in. Had to customize the dump pupe to clear the clutch line but not a problem.




Got a new custom gear boot thanks to Ty's group buy




I'm having an issue with my radiator at the moment so once the engine is run (400km's to go) in and we do the power tune i'll be upgrading to an aluminum radiator and electric fans

_________________________________________________________________________

Im also re-building the EJ206 from the GTB halfcut I had. Its going to have standard 2001 AUDM rods and pistons put in as well as a new timing belt. This will be for sale in the next few weeks so let me know if anyone is interested.

_________________________________________________________________________

Update 1/11/09

Suby Club Spring meet and cruise was on today. Two separate incidents, two tow trucks and another long day...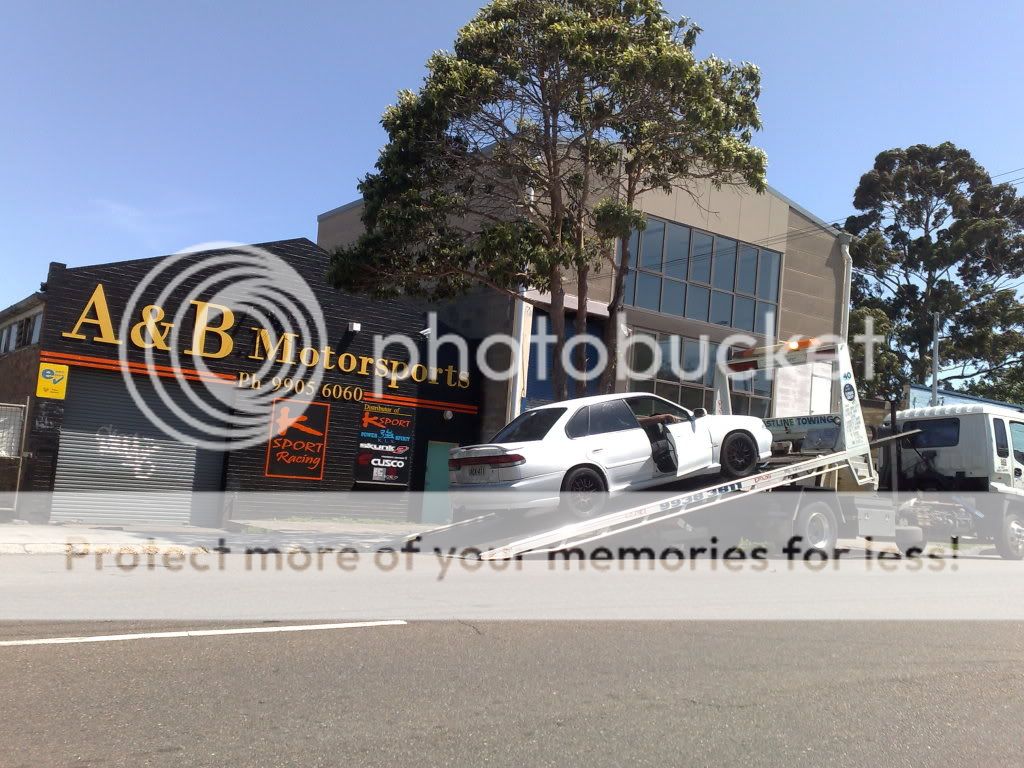 Update 24/1/10

FINALLY got to removing and stripping the engine.





Update 11/2/10

All the bits and pieces are back today. Heads and block are good to go. New cams, phenolic spacers, alloy radiator, thermo fan and aluminum pulleys. We can re-do all the FMIC piping and CAI due the phenolic spacers.

Reassembled the engine tonight. Get it back in the car tomorrow. Hopefully have it back on the road with a retune sometime next week!!



 
_______________________________________________________________________________________________________________
 
8/6/14
 
long story short*, it's back. the unicorn lives!
 
now with Ganadors
 


 
_______________________________________________________________________________________________________________
 
18/6/14
 
Projectors!