Hi everyone. My name is Varsam, pronounced Varsharm, but you can call me V-Man; whatever is easier.
Well after 5 years of owning my Gen3 Liberty and a bit over 1 year being on this great forum, it's time that I get a build thread up. It was always my intention of maintaining my Liberty for resale value but after some extensive panel damage I was faced with 2 choices:
1. Drive her as is until she dies, damage and all
2. Fix up all the damage, give her a well deserved rebirth
Naturally I went with the latter choice because I paid cash for her and so I don't owe any finance and I simply love Gen 3's. Plus I want to use her for photographic opportunities to further my skills. A good canvass like what will be when she's complete, will be awesome.
Although these may be biased due to having the car but things I like about her are:

1. Subaru
2. Liberty
3. Gen3 (tail light garnish, profile, etc.)
4. Rev D-E
5. Colour - Blue
6. Boxer engine
7. AWD
It's as simple as that.
Despite being an NA, the way I think about it is that it's still a sports car with the pillarless doors and has a 2.5l engine as opposed to a GX 2.0l. I'm proud to represent.
Car: 2002 MY02 Subaru Liberty Rev D-E sedan auto
Purchased the car with 79,xxx kms
Currently has 128,xxx kms
Ok sure I might cop the typical flack that she's not manual but from all the auto drivers on here including the B4 owners, autos have their pros too. I'm happy with the gearbox and I'd only go 5sp if I did an engine swap.
I drove her for nearly 5 years before the suspension mods began and so you can imagine how much I've noticed and appreciated the increase in handling. After doing my exhaust research as I'm sure every NA person goes through, and reading a unanimous consensus on here that if I want to change the exhaust note, just to get a muffler and put the rest into handling, I have done just that.
Muffler debate: I haven't got a muffler yet as the cost of one including a diffback setup could get me anti-lift kit and rear camber kit for the same price and in terms of bang for buck, especially on an NA, handling supersedes a bit of noise. Also I don't want to falsely give myself and people on the street the impression that she's a fast car just because of the exhaust note. Also despite being able to achieve that boxer rumble with UEL headers, the way I see it is that the rumble is synonymous with WRX's and so it'd just be tryhard of me to do so imo.
All the panel damage was caused by my ex gf's driving. This is not open for discussion.
Current Mod List:

Bilstein struts with RS-R lowered springs
Whiteline front strut brace
strut top covers
5000K Xenos gas globes
Heritage parcel shelf and brake light
35% tint
Heavy duty towbar
Mods to install:
Whiteline 20mm 2point adjustable rear swaybar  
2pot B4 front brakes
front braided lines
slotted rotors (remove surface dust with wire brush drill bit)
paint calipers and apply vinyls
Rally Tech mudflaps
2005 Subaru WRX 17's (titanium finish)
STi Group N engine mounts
RalliTEK 4EAT tranny mount bush
Kartboy rear diff bushes
Mods to come:

Whiteline anti-lift kit
Whiteline 22mm front swaybar - undecided =/
yellow vinyl fog light tint
debadge bootlid/tailgate
gold anodized closed ended lock nuts
ezlip
black Plastidip grill surround
black Plastidip front air dam
STi Group N pitch stop mount
GFB lightweight crank and alternator pulleys
Panels to repair/replace:

bonnet (I have a JDM alloy bonnet going on, needs painting)
front bumper (replace current bar with a Rev D-E RX bar, needs painting. In my shed.)
rear bumper (fix or repair and paint)
side skirts (just bolt them up once the mudflaps are on. I don't want to jeopardise the new skirts I picked by getting stone chips, as I'm replacing mine due to scuff marks.)
bootlid (weld spoiler holes and respray)
both drivers door shells (just need to swap the motors and windows over)
LHS rear passenger door shell (just need to swap the window over)
both side mirrors (install after door shells go on)
LHS fender (bolt up)
FYI I got most of these parts from a wrecking B4 in the same colour and got a good deal since I bought so much.
Future dream mod list:

(under construction) - manual conversion?
 
I am aware that she needs a wash and cut/polish but the weather has been so shitty and overcast lately that I won't have an opportunity to do so as I really want to get this ball rolling RE: panel restoration and figured you all wouldn't mind if I shared it with you.

Anyways, enough words, it's that time your all waiting for... PICTURE TIME!!
Ride height before suspension install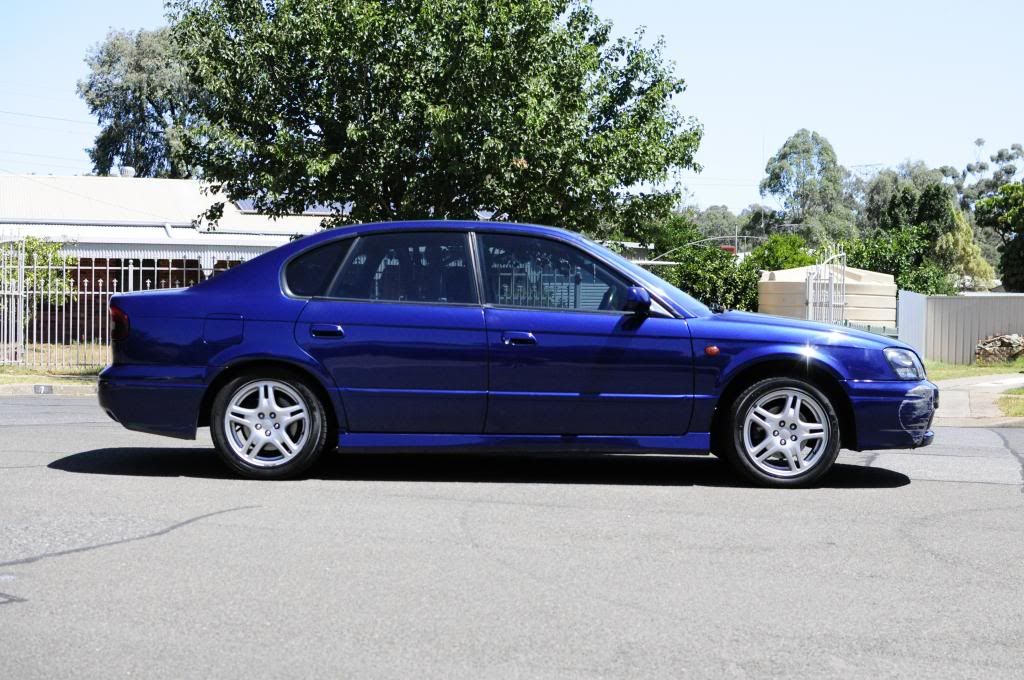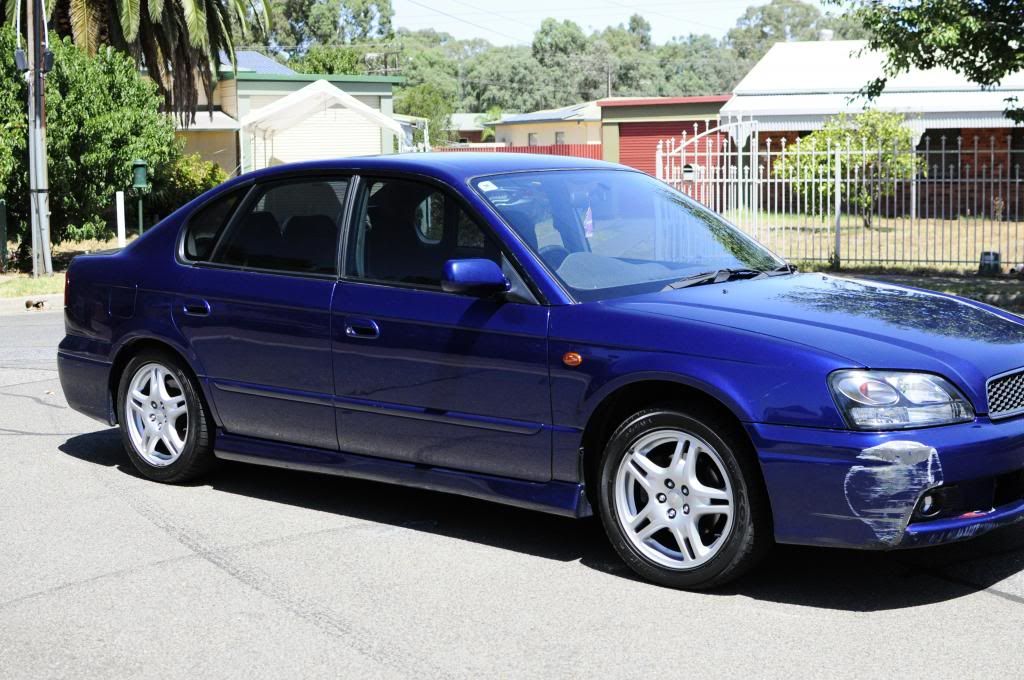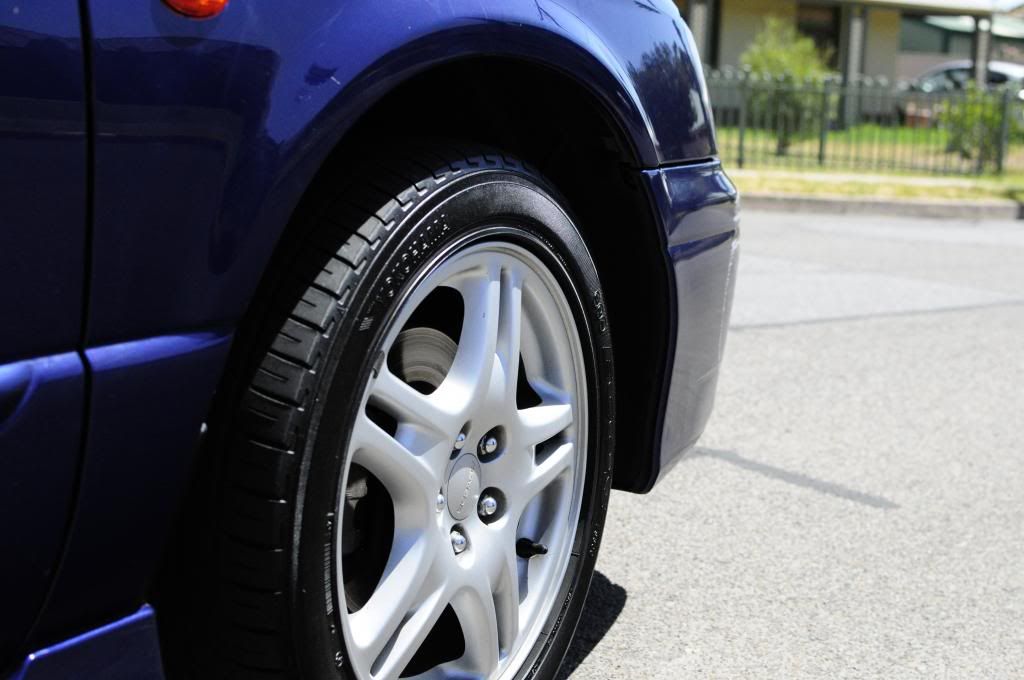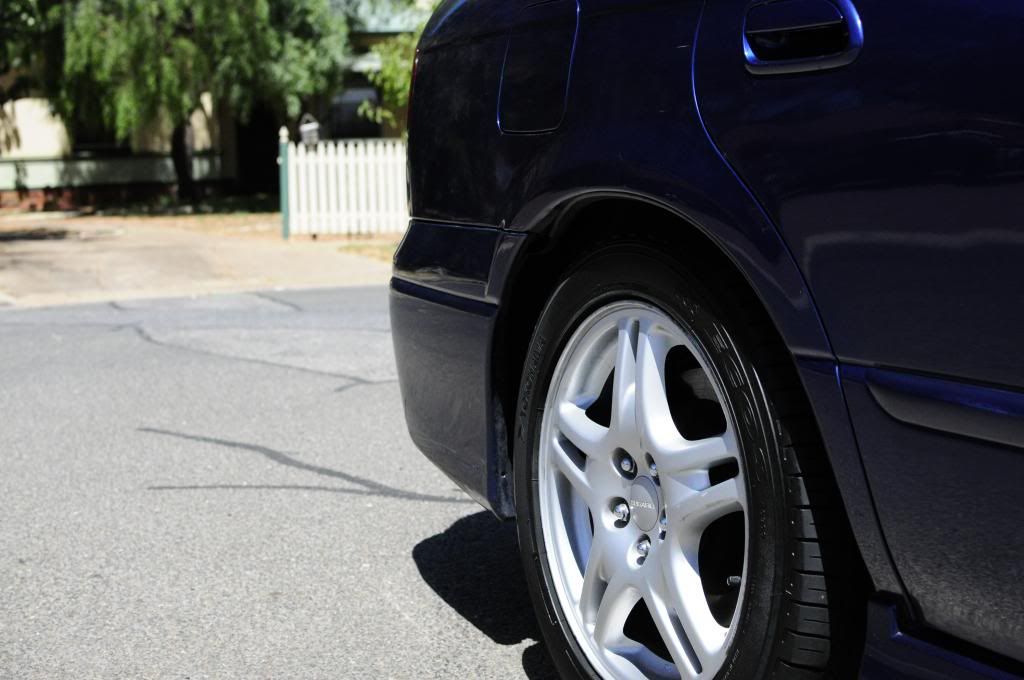 Ride height after suspension install
Heritage parcel shelf and brake light
strut brace and covers (yes the engine bay isn't the tidiest. I'm yet to do a detail)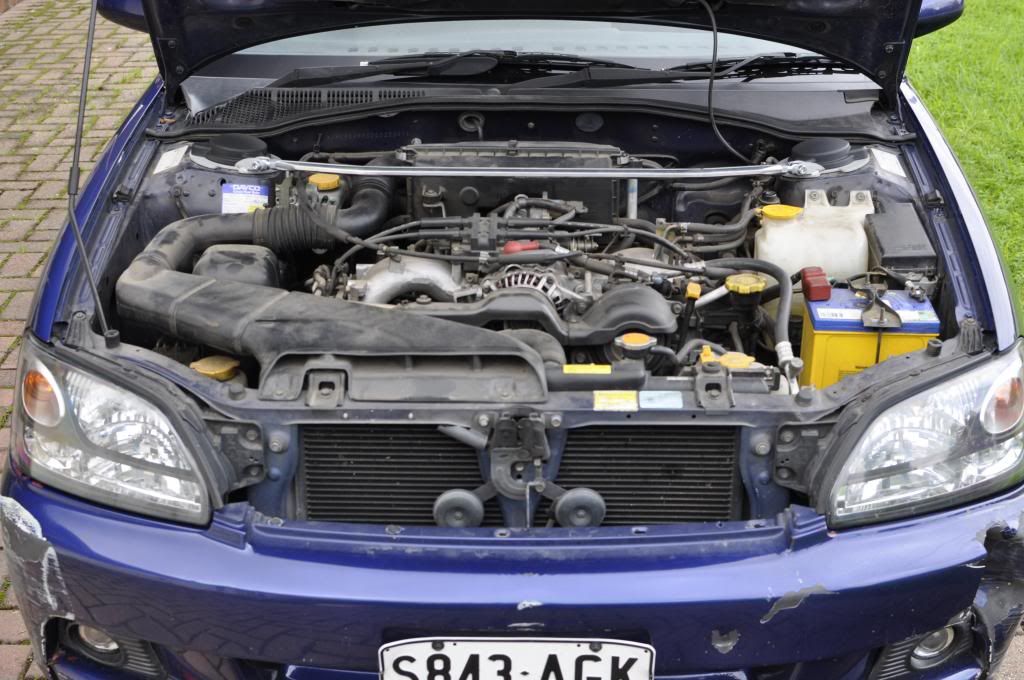 wheels to go on

mudflaps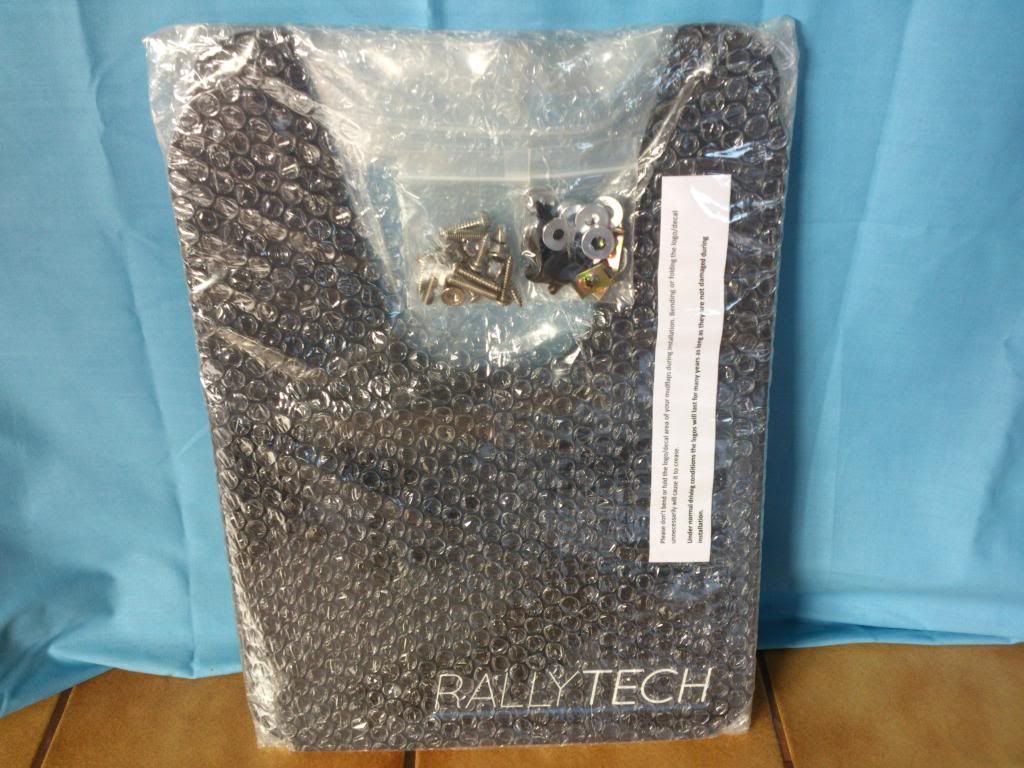 rear before mudflaps and tires go on

my baby taking me Downhill (long time ago before the damage and suspension)



Panel damage
(to show before and after of holes welded up)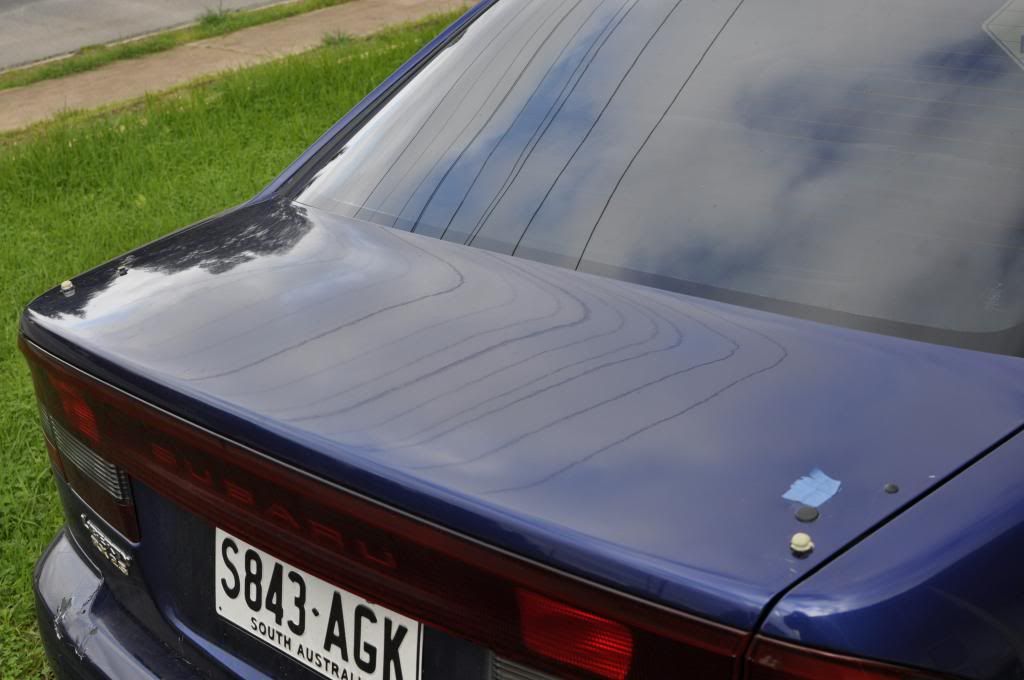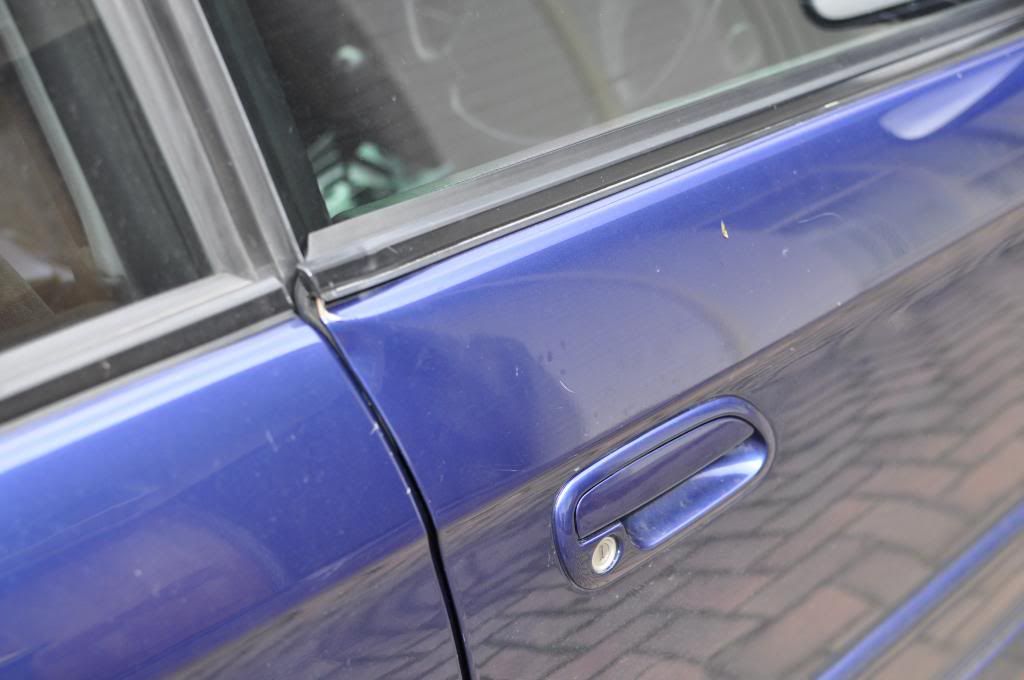 bent and various stress marks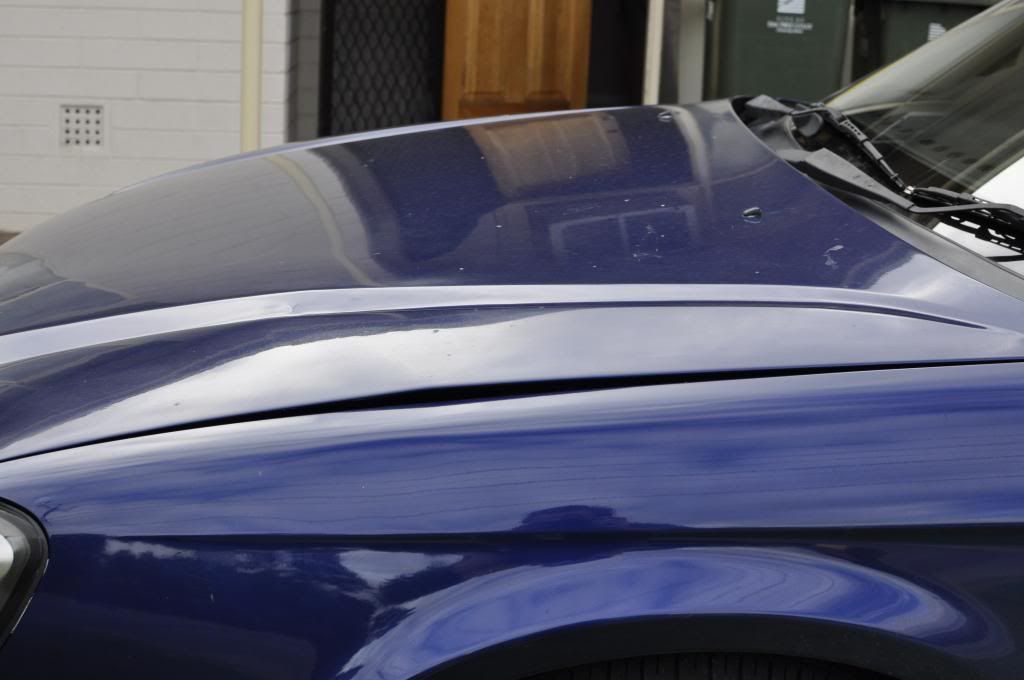 More pics to come.

Thanks for reading =)