So everyone's doing it might as well do an intro also.
UPDATE: Has evolved into a Build thread
UPDATE 2.0
CLICK HERE TO SKIP TO EJ20T Turbo Goodness
Names Ty,
21
23
25, Live in the eastern side of Melbourne and my car
2 cars are a Charcoal 93Gen1 AT FWD Lib
is a White 98 Gen2 RX Bilstiein.JDM V3 Sti Bitsa

Bit has changed since I Wrote this..
Few cars have come and gone.. but the White Rabbit remains..
As of May 2013.. The Beast is still going, its just taken on some new goodies and is being prepared for a month of Mayhem.. Mt Hotham 2013, Winton 2013 and Hunter Cruise 2013 back to back..
It will either be a month of Agony or Triumph.. time will tell.. Stay tuned
Carry on with the old post now...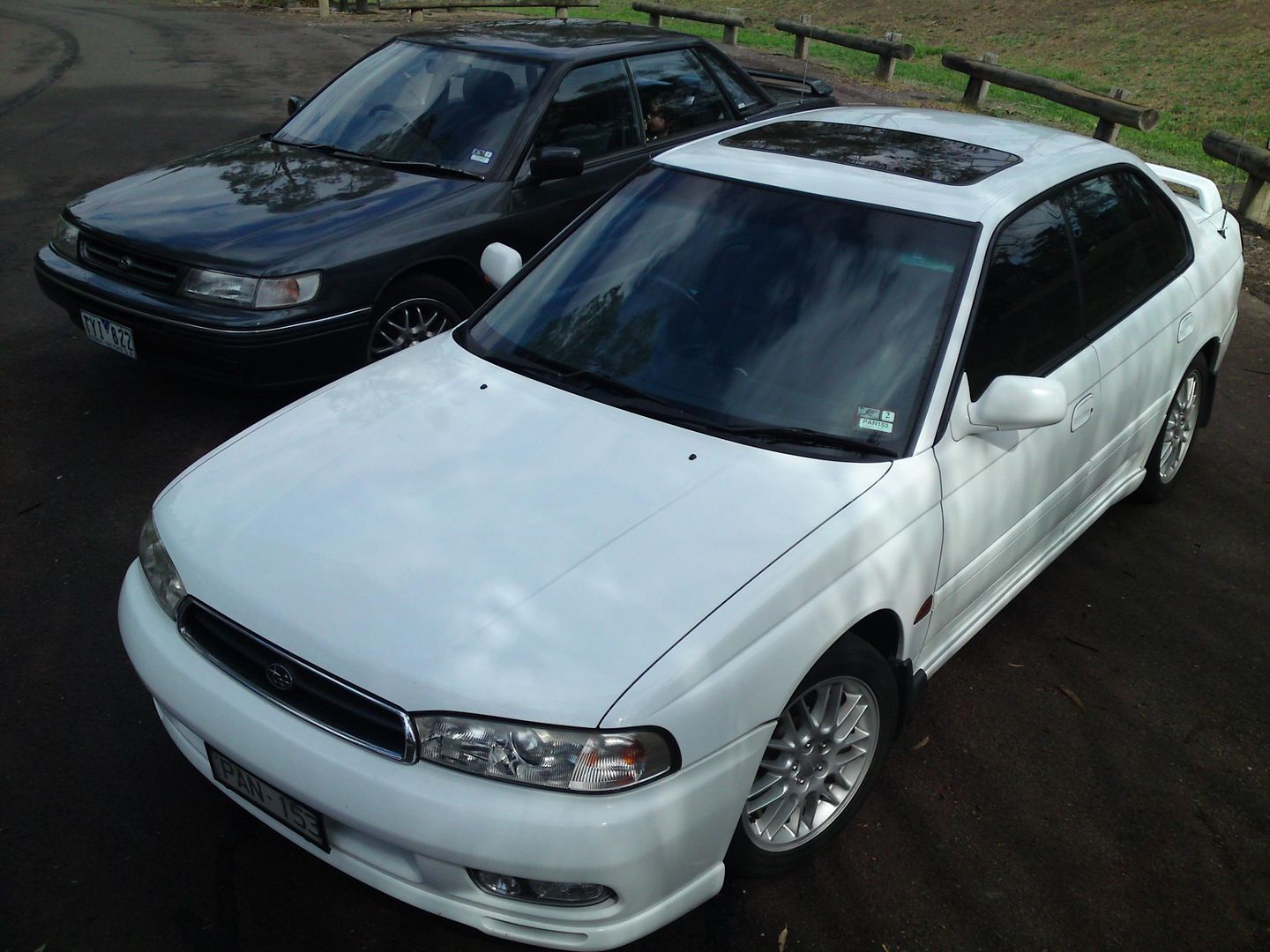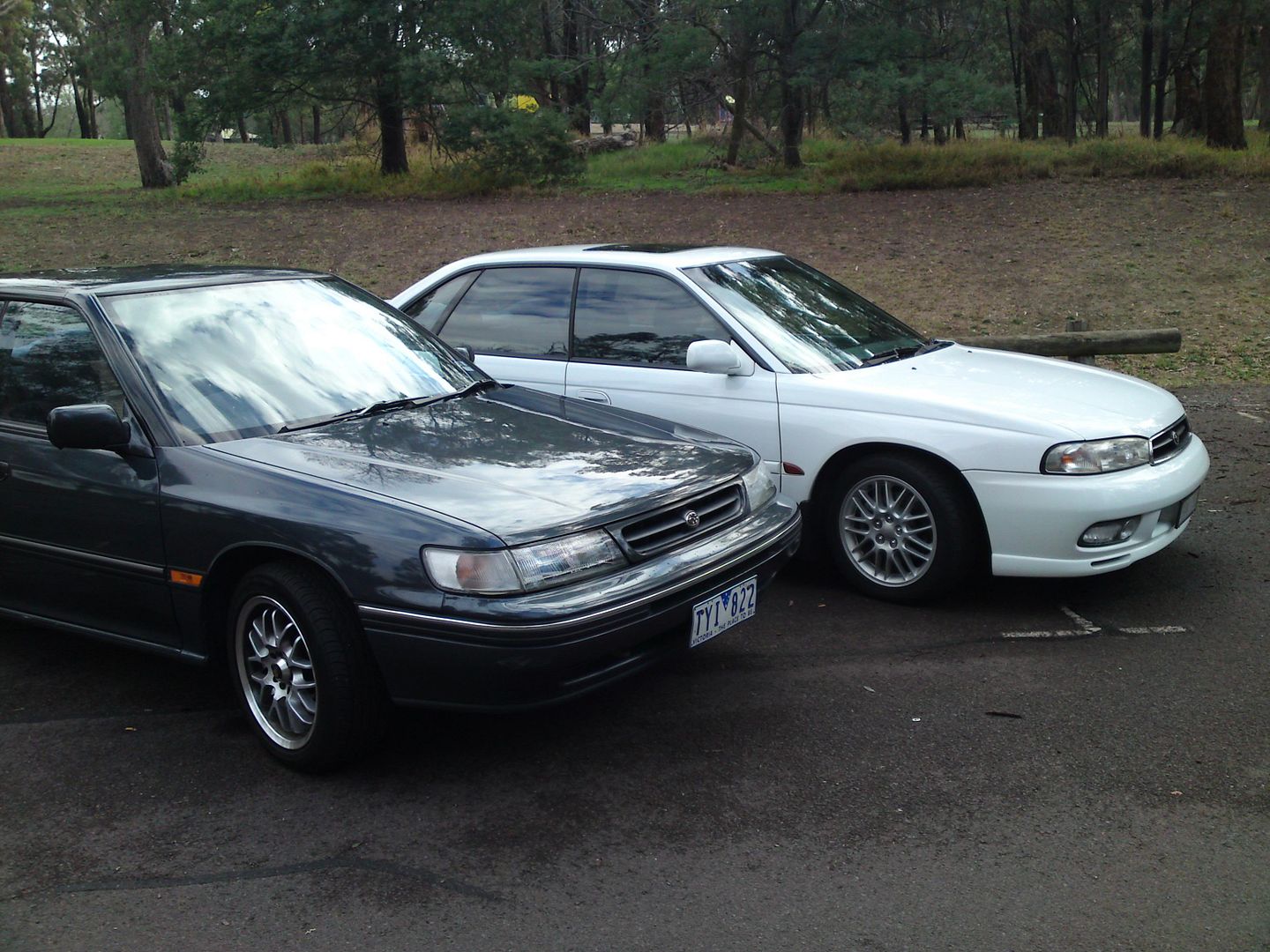 My 2 all cleaned and posing.
My story:
I grew up with my older brothers always fixing cars, swapping engines and constant late night calls to pick them up cause their cars had broken down or something had fallen off.
Datsun 1600's, Escorts and Triumphs all used to be in various parts around the house.
I was a bit too young to really get into any of the work with them but it has obviously has an affect on me cause 15 years on i find myself working on the cars in my make shift garage at 3 in the morning but ill get onto that later.
My first car was actually a 1987 ford Telstar sedan. it was dark blue and it cost me $50
I bought it up in Tweed Heads from some dodgy chick that needed money for weed. i was only 14 but my parents were fine cause they wanted a run around car instead of the F150 we had for towing the caravan (we used to travel around Australia in a caravan).
anyway this woman had side swiped a truck so i needed to get a new front quarter panel which cost me $20 and that was that.
we drove the car down to Adelaide and it only cost like $60 odd bucks in gas (yeah it was on LPG) so when we got there and tried to organise the rego and such i found out the woman was wanted in VIC and the car was apparently proceeds of crime or something anyway it was too much hassle and i sold it to a family friend for $100 bucks and thats the story of my first car and the first time i drove a manual.
Skip a few years and i was living in Melbourne i didn't have the cash for a car so i never even thought about getting my L's when i turned 16.
i actually only got my L's when i was almost 18 and was able to use my older brothers car for all that log book crap.
meanwhile i was the one that taught my Girlfriend to drive on her property back in S.A. and she was almost on her full licence due to a mixup at vic roads when she swapped her P's over to VIC
I got my P's finally when i was 20, aced the test, bloody woman marked me down on one bloody thing! apparently when i do a 3 point turn on a road so narrow you can only just squeeze past a parked car you have to still look left before you make the last move (even though im taking up the whole bloody road so no one could pass me even on a bike)
My 2nd car and first lib was the gen1 that my parents bought me for my 18th, total surprise! they did the whole hide the car in the garage tie a bow around it and then get me to go grab them something from the garage.
I had been looking around to get something for a while and actually been looking to get a 92EG civic SI 4dr sedan my parents knew this but on a fairly limited budget everything they looked at was crap, they stumbled across the lib at an auction and ended up getting it for bloody cheap! i only found out this year just how cheap it was.
the car was and still is in mint condition, apart for a broken antenna everything was fine.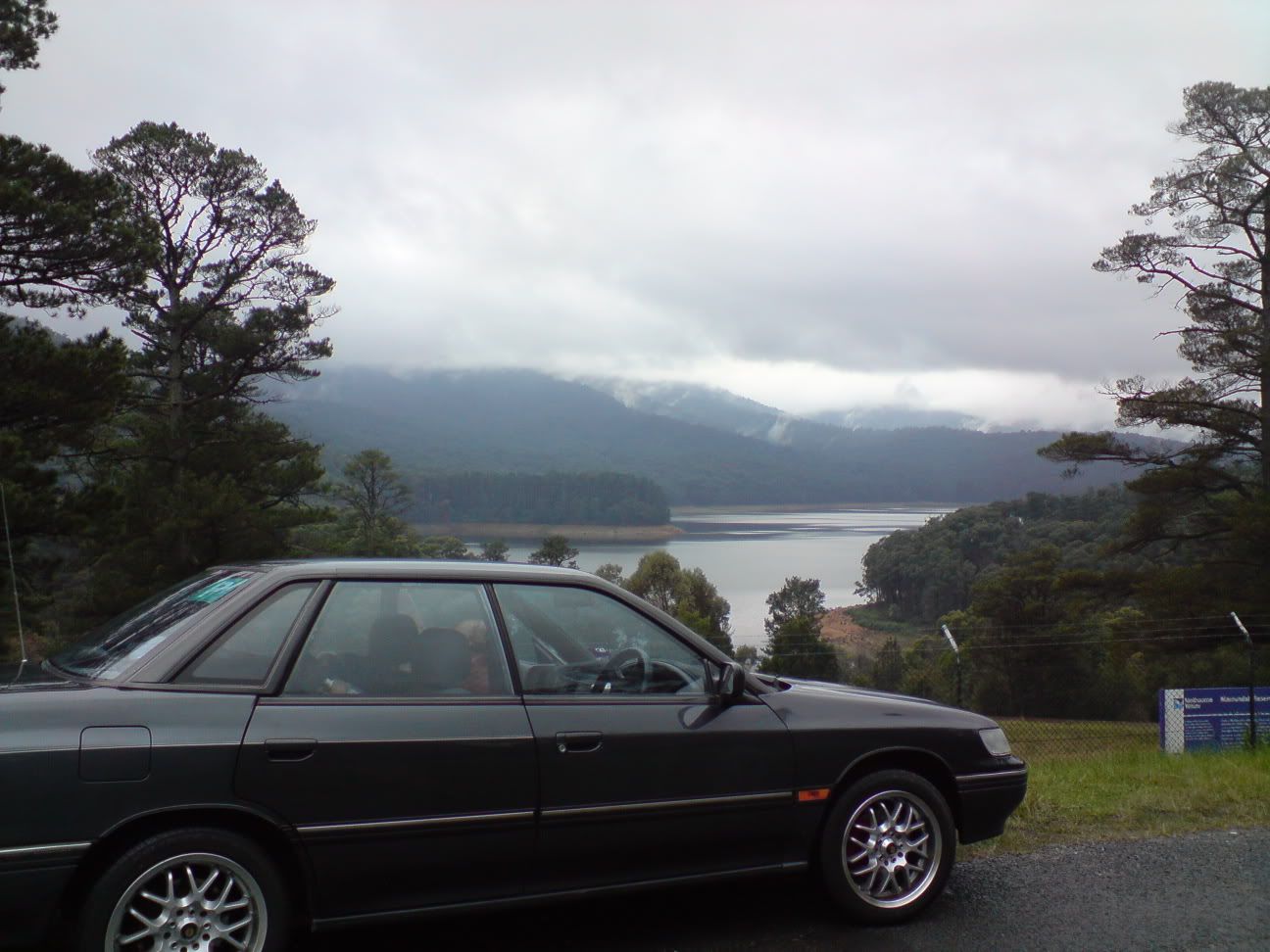 on the way to the snow for the first time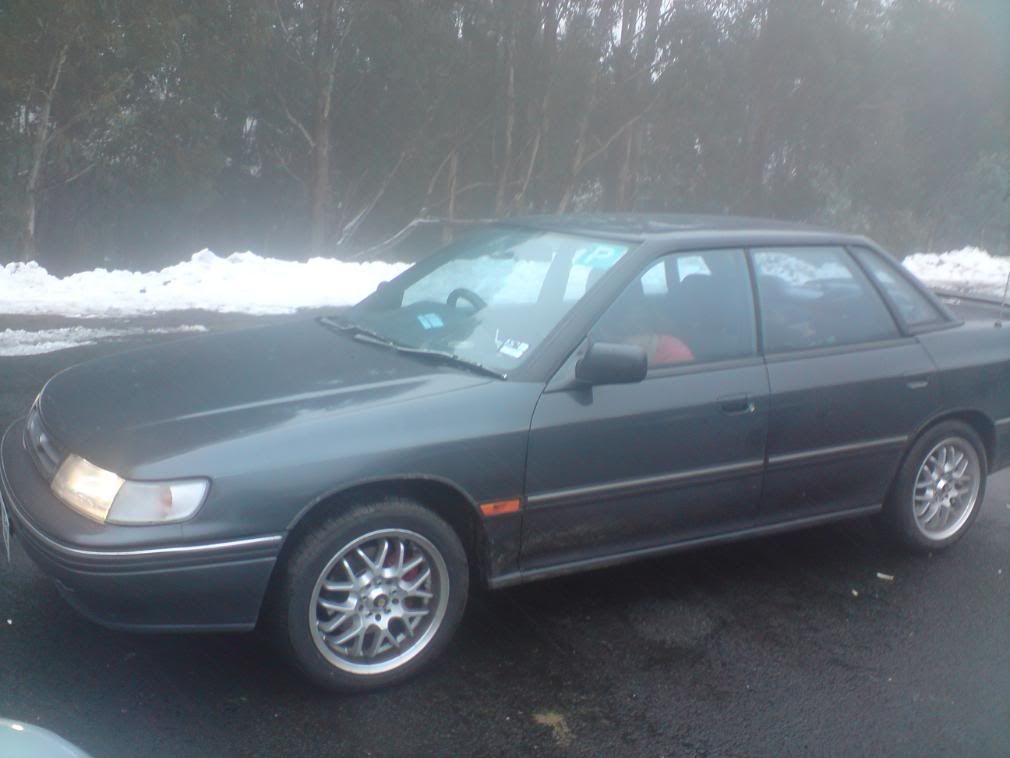 I never really knew much about Subaru other than the GC8 rex's hell i didn't even know the lib existed, as soon as i got home i was on the net and found out all i could.
this leads me to my first mechanical experience with the lib...
Driving to TAFE one day and i pull out of the servo i hear a sound like a business card in a bicycle rim. popped the hood but couldn't find the issue.
when i got home i started to have a poke and while removing the AC belts i found the issue, the timing belt tensioner pulley had broken off and the timing belt was cutting through the belt cover. anyway long story short i called lube mobile, helped the guy strip the engine down and learnt a shitload from him.
fast forward 2 years and a few extras like rims, a spoiler and some RS brakes and seats and the bug had bitten, i wanted something more sporty. and i was tossing up between a gen2 and gen3.
September 2008 i bought my gen2, total fluke too, i had been looking since march for something with under 170k, manual and had to be RX gen2
i was at work one arvo and went to show a colleague something i wanted to go look at on the weekend, i was always searching for Subaru liberty between 96 and 98 in manual on car sales but when i got her to search it she searched till 98 till 99 and wham the first result is now sitting on my driveway.
(its compliance plate say 99 but build was Oct 98) they stuffed up the ad also cause they forgot to put a phone number but i googled the plates and found some random crap site that had it advertised also and found the number there.
Some photos from the original advert.
so after the test drive i was very impressed, but the selling point was just how well looked after the car was! all the others i had seen obviously been driven hard, this one being the Bilstein was a bit more sporty yet it had really been looked after, my seats have no wear on them like others i had seen and even all the rims were in perfect condition, not one nick of gutter rash (pretty good for a car that had been driven around for 10 years and 161,210km's)
anyway i did all the checks i could and was aware of the head gasket issues so i checked the overflow and such but on my 20 minute test drive i encountered no issues but 1 week later there i was doing what every other gen2 rx owner has done cleaning radiators, swapping thermostat, checking waterpump and then i found out about the headgasket failures this engine is known for.. i almost died, i had just spent so much on a car that needs another $3k of work done
the dealer was a wanker, the "warranty" my car came with was well worth **** all and the statutory warranty dealers must follow well hows this for getting stung... it only applies to vehicles with under 160,000kms and 10years old... ever heard of a reason for someone to wind the odo forward.. well that's it! i was stung by 1210kms! needless to say i was not happy but there was nothing i could do.
and that brings me to my headgasket job, having not done anything mechanical at all i spent the next 2 months reading every thread blog and website i could about doing it myself.
come December, the week before Christmas after slowly getting all the parts and tools i needed i attempted the unthinkable!
i started at 10am after pulling a sicky and started to pull the engine, 3pm i had it ready for the hoist.
the next day i had my brother inlaw help me with the hoist i hired and pulled the engine carted it to my tiny garage and made a workroom.
over the next week i would get home from work eat dinner in the garage and work till 2-3 am pulling it all apart, finally after 3 days i had it all torn down and the heads were ready to be cleaned.
the end of the week came and i spent my Saturday putting it all together on my back patio under a tarp. Sunday i hired the hoist again and Monday i had my engine in and the car was running!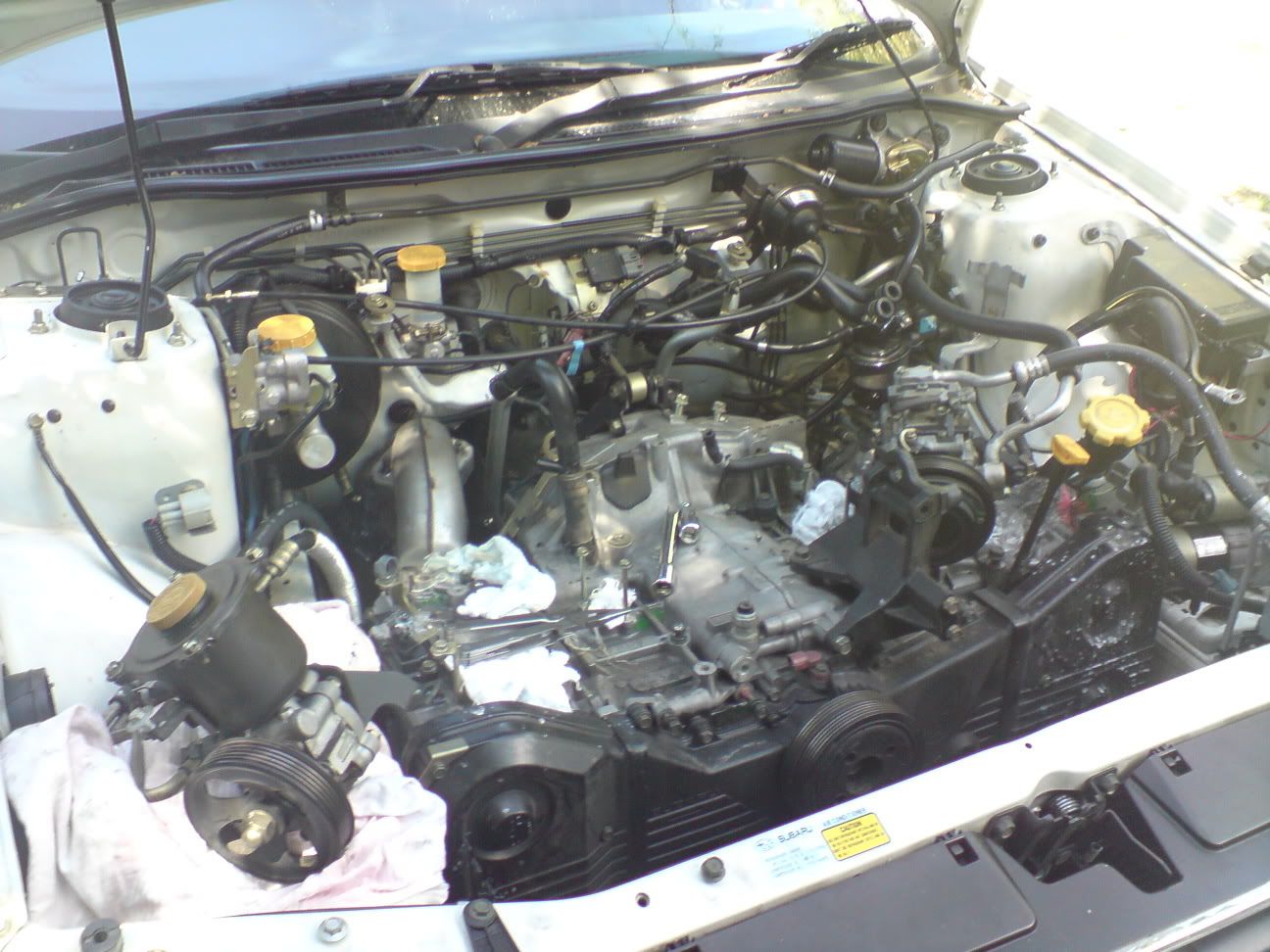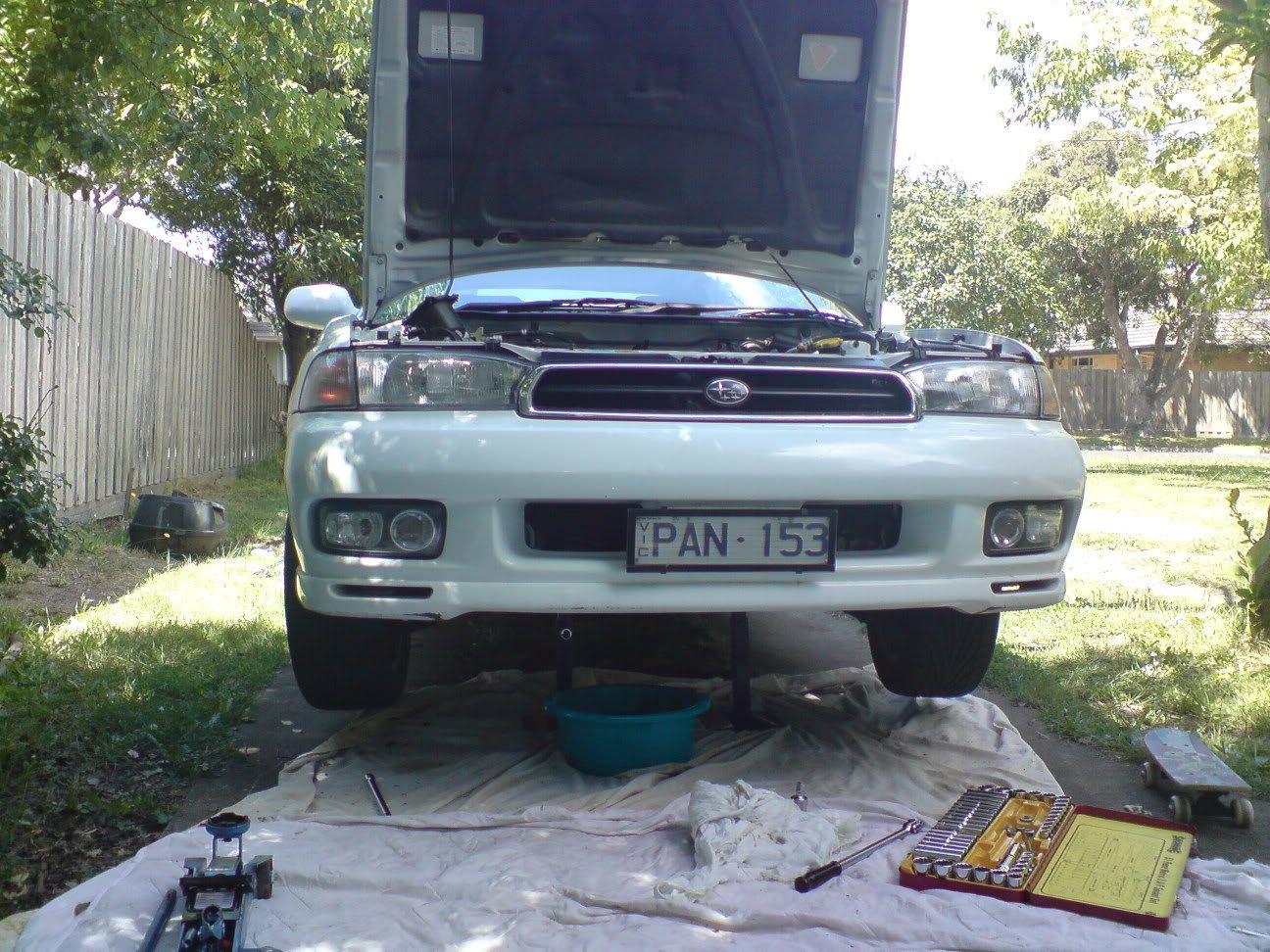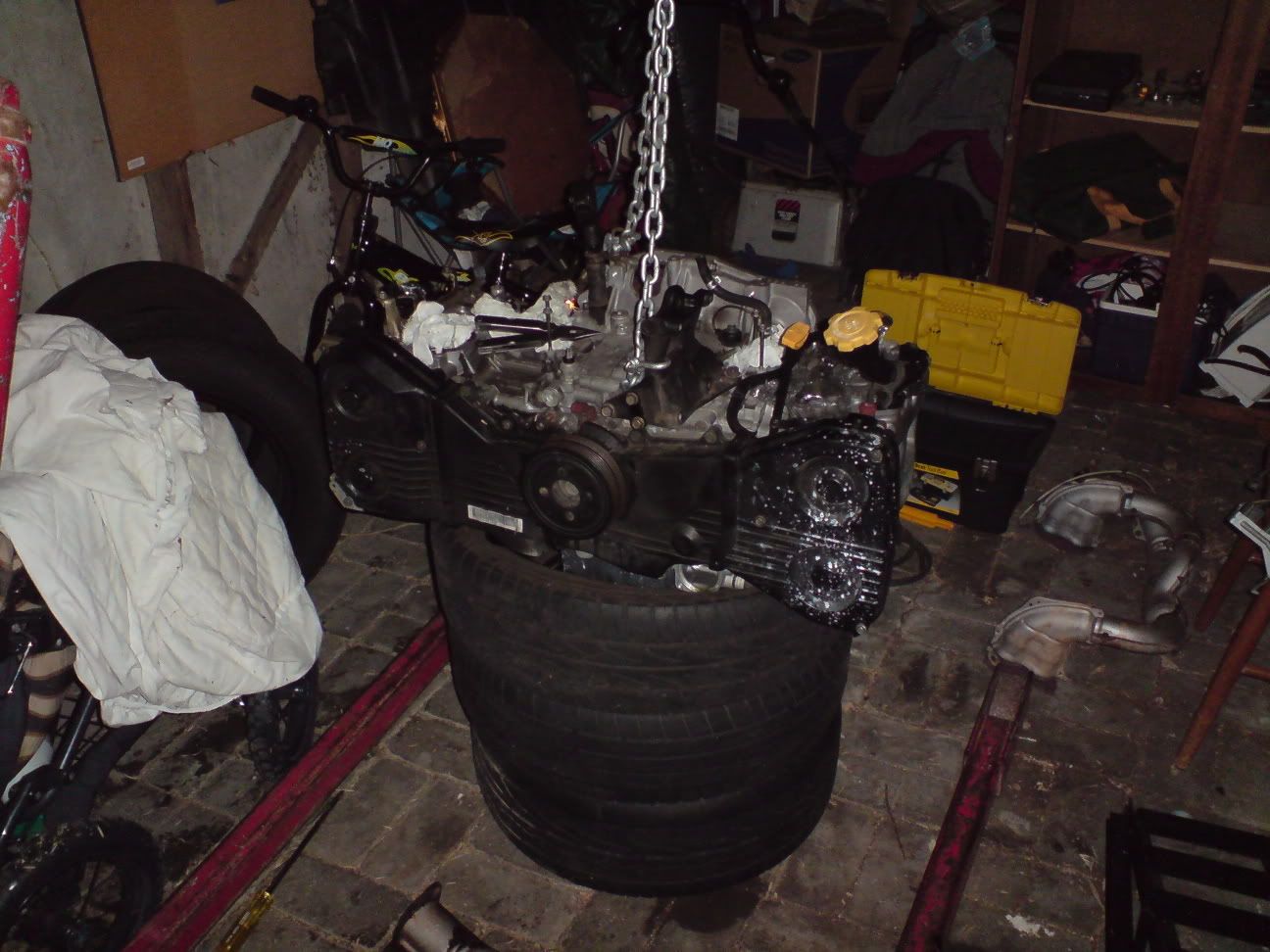 my ghetto garage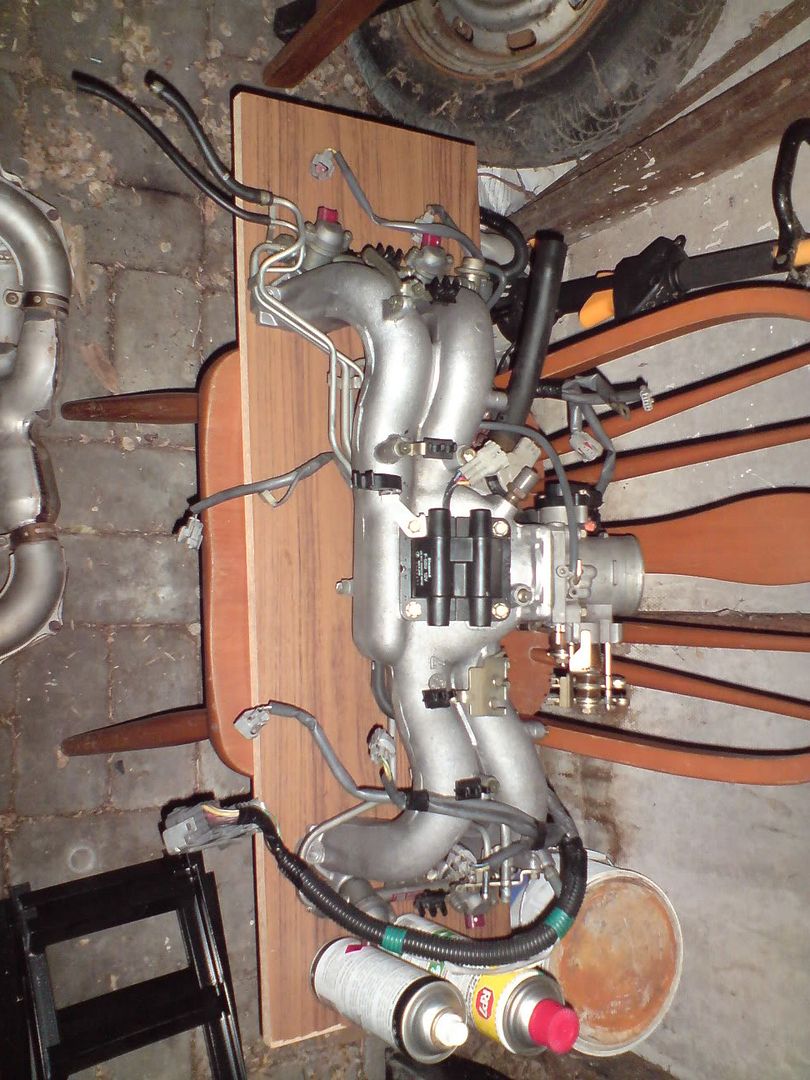 that there was the most mechanical thing i have done in my life and in retrospect i was stupid to even attempt it with my limited knowledge but i didn't have the cash to pay someone else to do it and this was my only option, it ended up costing me just over 1k in parts but i did the clutch and every seal/gasket i could think of.
6 months on its still running fine i have driven to Mildura and back many trips to Geelong and she is still good, i am quite pleased with myself and i have learnt ALOT about my car and engine.. also it has given me the want to attempt a conversion too (although it will take a bit longer i now have some mates with suby's so its not going to be a loner job again

The other mods i have done to the Gen2 since are the usual 2.25" Catback with oval muffler and 3in tip, Projectors, Car Audio, in guard resonator removal and dash cluster colour change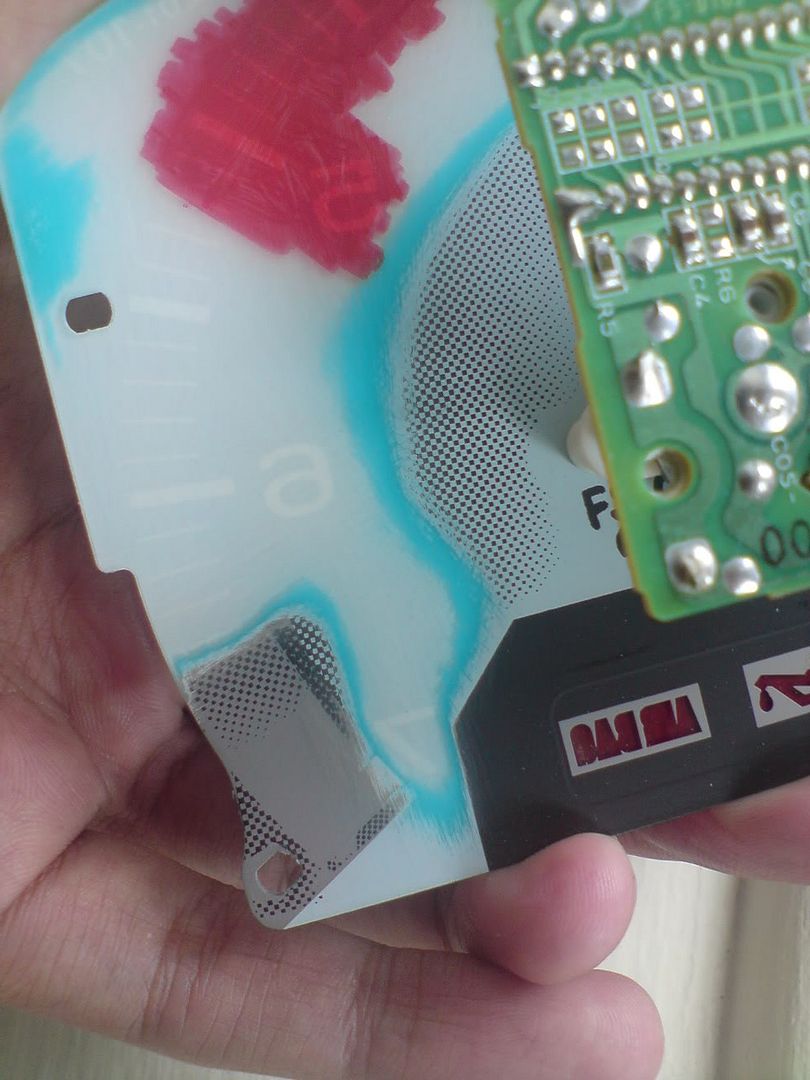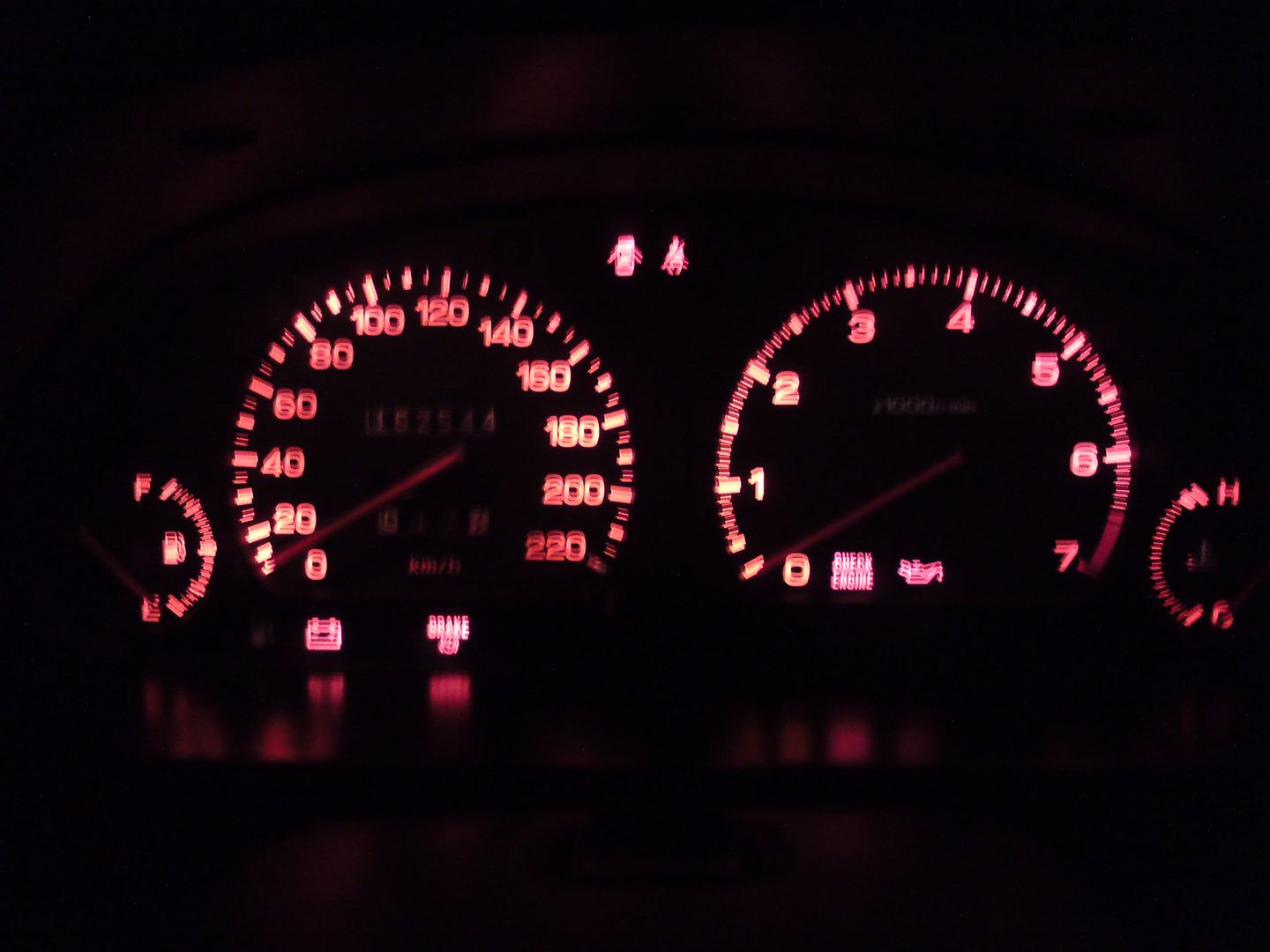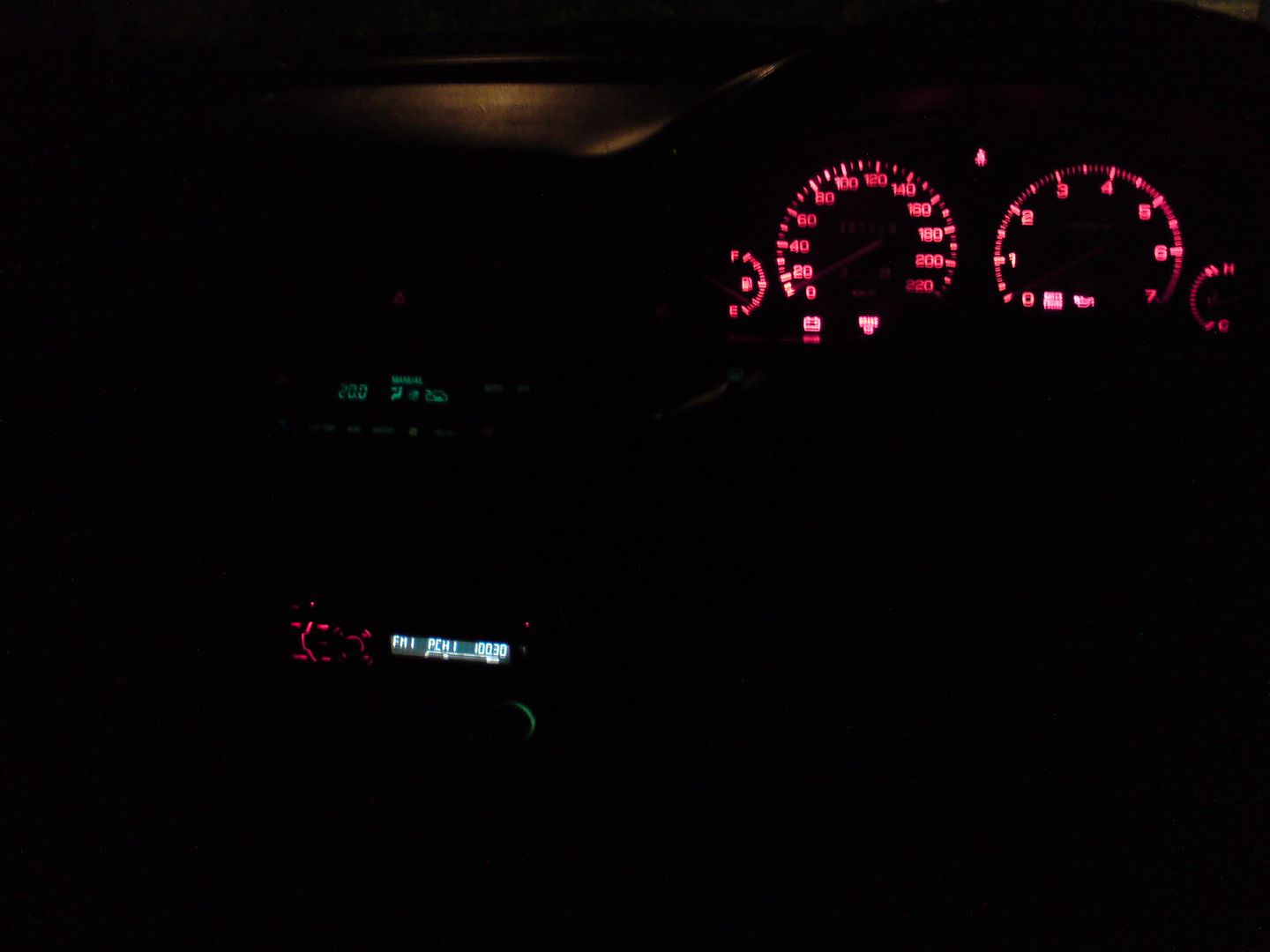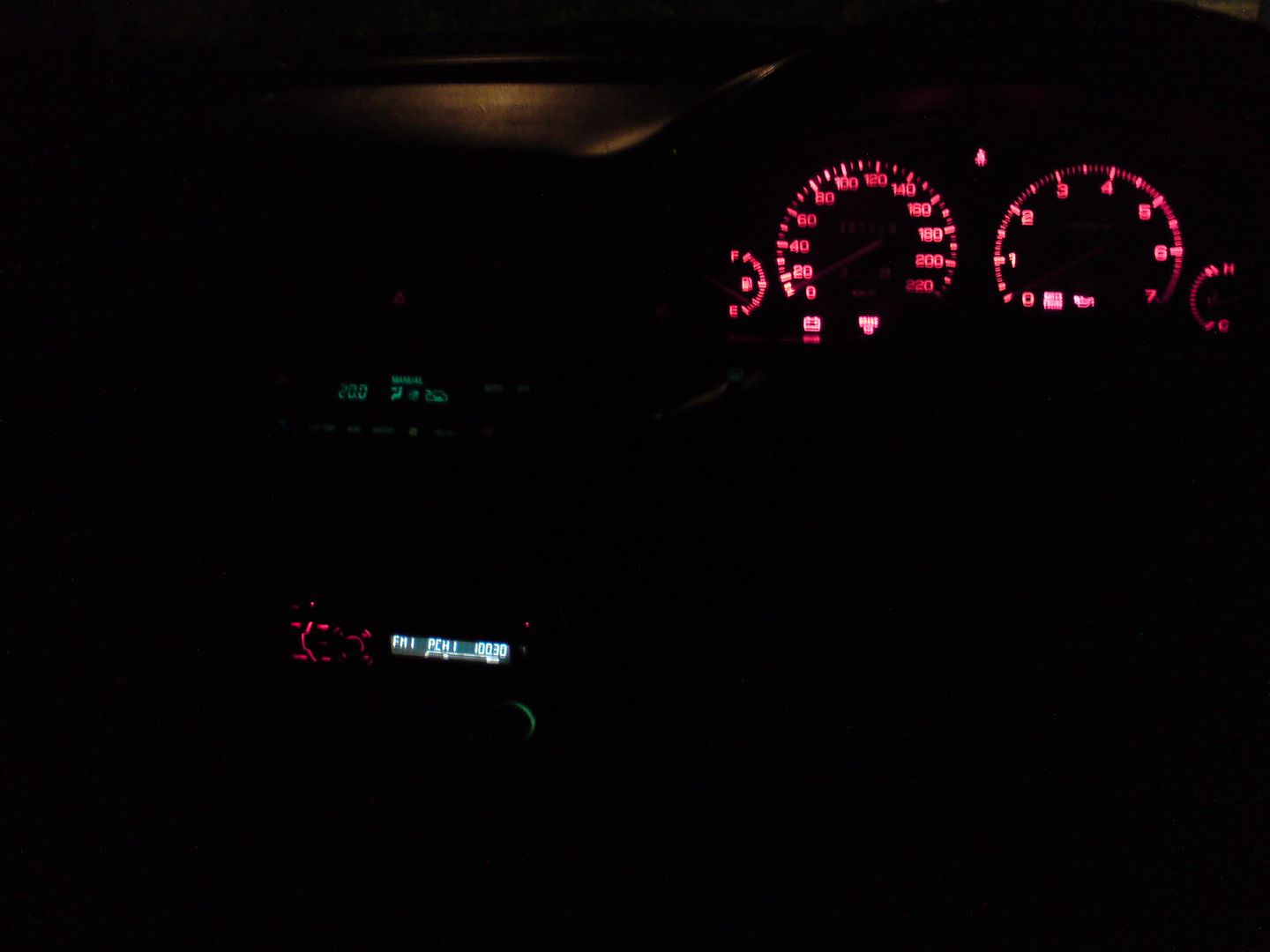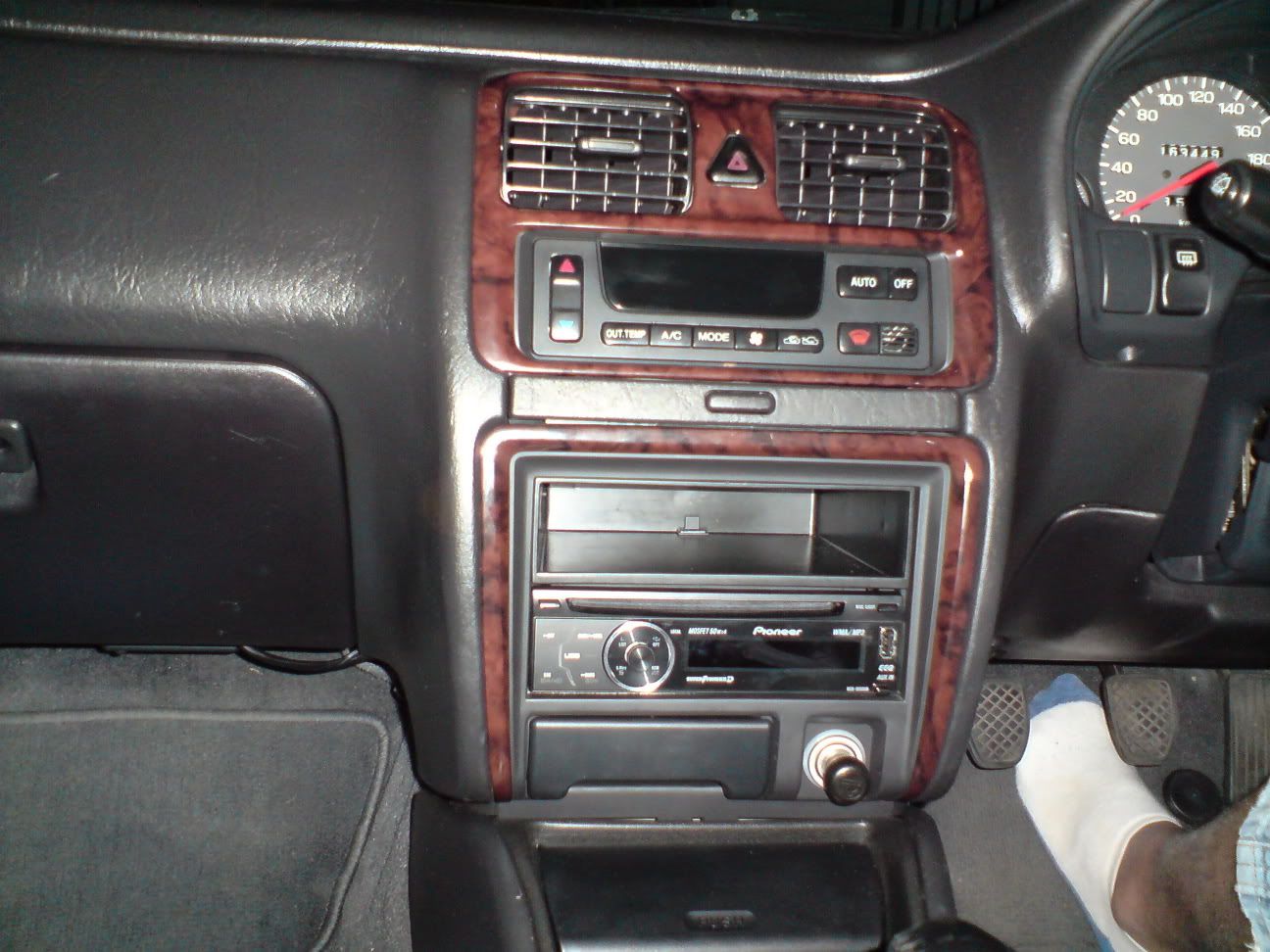 I plan on upgrading brakes to the 294mm set up and some HID's for the projectors and that all while im on the P's, after that i will be moving onto the engine conversion to something like alexxx has done with his wagon. im not chasing strip times in my car i never will be, whatever i do to my car i always want to keep the stock look, i will probably always keep the standard rims and only go as far as getting a hood with the scoop ready for my top mount.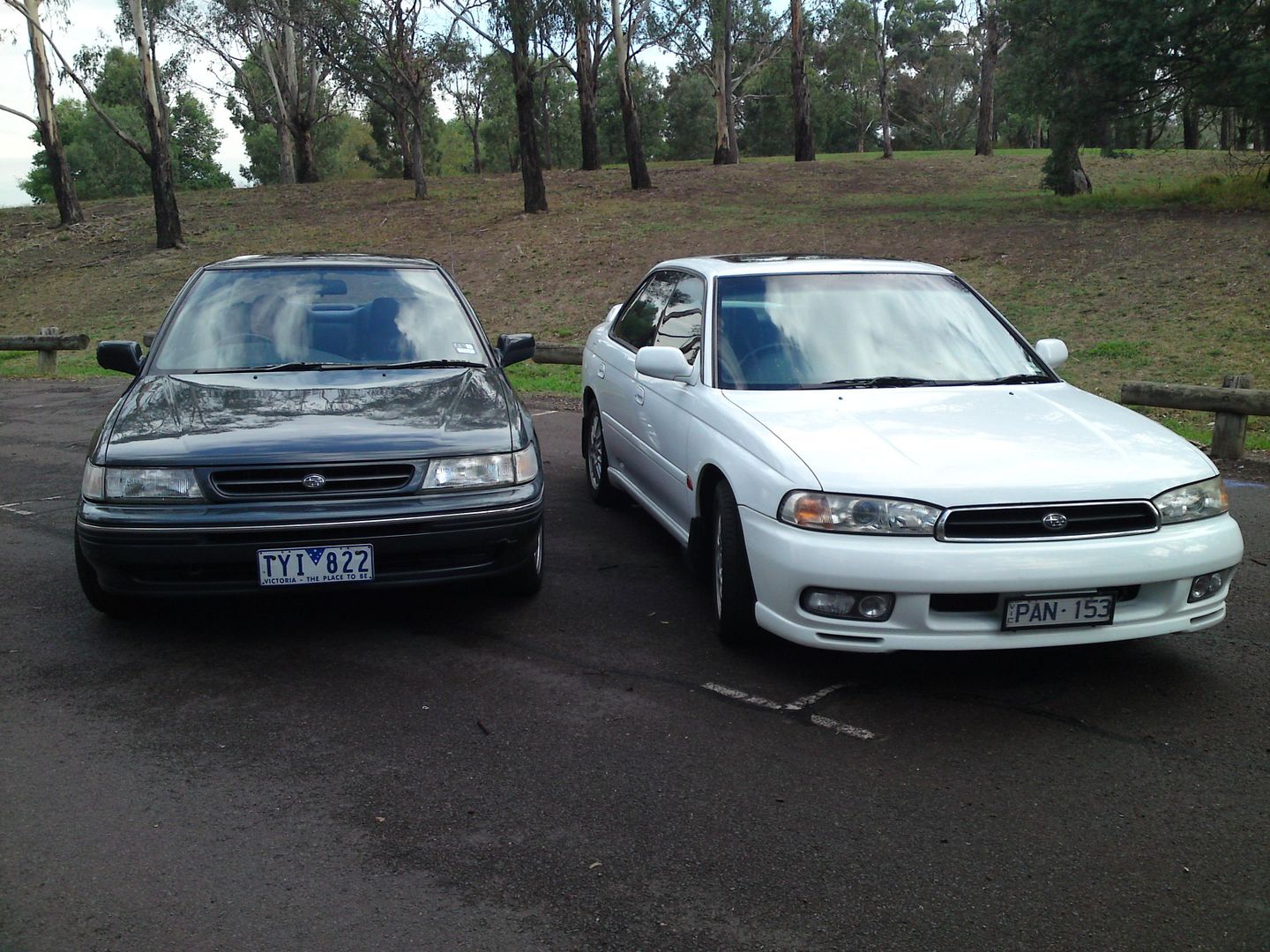 So far my only driving incident has been after i drove to Mildura for work, i was tired after driving for 8 hours then starting work for the next 4 hours so i was pulling out of coles and reversed into the guy behind me in his yaris, damage was his front bar had popped out and my rear bumper had his numberplate stamped on it. i literally pushed his front bar on by hand and as for my car.. i just washed the blue numberplate paint off my bumper lol.
As for what im doing with myself these days.. i just picked up a part time job working at a Subaru Wrecker, totally off track to what my profession is cause i studied a Advanced Diploma of Computer Systems Engineering and was working in IT since i graduated but was made redundant earlier this year and have been hopping around doing contract IT stuff at night since, so this job is a big change lol anyone need a part let me know and i can see if we have it and a price.
so that's my intro/story, everyone else is doing it so i had to get in on the action, not quite as well laid out or well done as you other guy but im sporting the after effects of a massive night out and i have been writing this sitting on the couch while the missus watches some movie about a shopaholic.
-Ty