Hi guys,
The other day I saw a car for sale on the Subaru car parts Aust. facebook site and I had to check it out.  
It was an utter bucket of shit..... so I promptly bought it.
Just another project to keep me entertained, it's a White MY02 Gen3 B4.
Say hello to Hobokong.....
She's a bit of a mess. It had a blue B4 bonnet as well but that's now on my RX2.5 Bluekong.
The only way i can describe it is to call it a Hobo.  It's been beaten & broken & tortured & cut up & molested beyond imagination.
It needs a shit tonne of work done to it.
The story goes....
I first met Hobokong a few years back when a Member here, Mbooma bought it as his second B4, for quite a cheap price. He intended to do the quick fix and flip to fund his other B4's needs. He brought it to me when it was discovered it major running issues.
I had a look around and promptly advised him to get rid of it as quickly as he could..... and to get it the fork off my driveway before the concrete caught what this car had. 
So Mbooma sold the car on.
The car was then sold from backyard mechanic to backyard mechanic, all of which saw the potential of the car, but didn't have the parts or the means to fix the issues. So they fixed what they could then flogged it off to the next poor bastard. Brake discs & pads, new springs, new tyres, panels etc etc...
It is the single worst example of a B4 I have ever laid my eyes on.  It disgusts me.
Everything is so so wrong & it's damn amazing I made it home on the trip from Penrith to the Central coast when I picked it up.
This particular car IS the one that gave the B4's it's bad name!
But the thing is..... it's all repairable 
So let's take a look at some of the work the previous owners did.
This would have to be the best battery tie down I've seen....
Some of the damage that needs attention and....
Is that seriously a wood screw?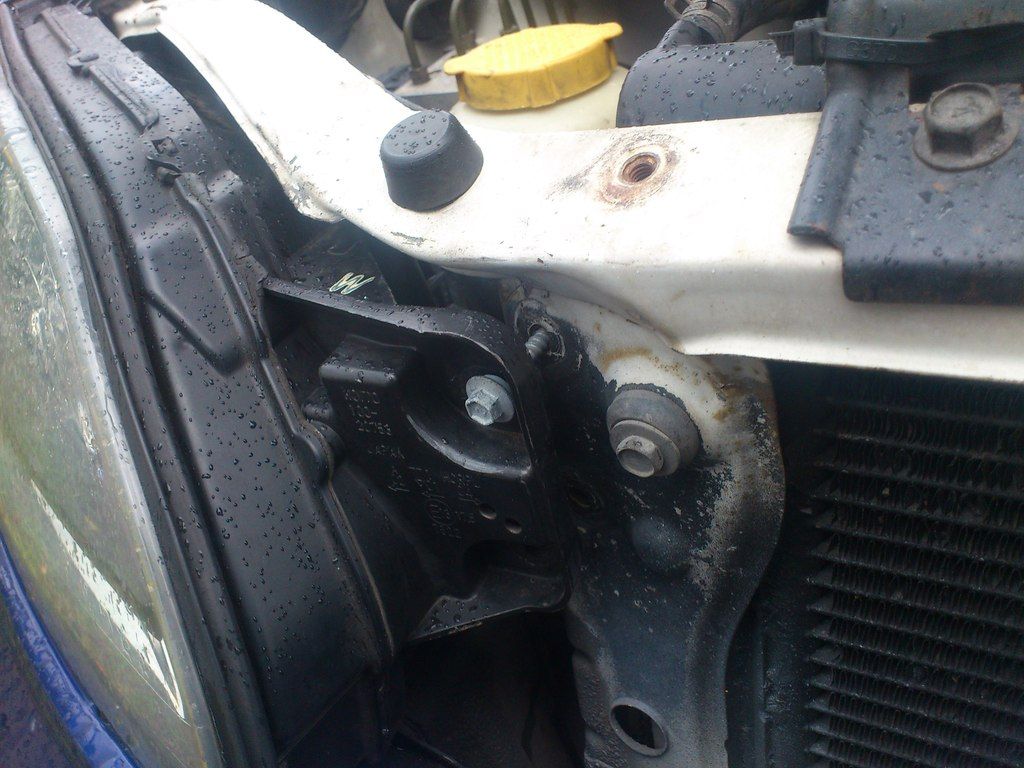 Blergh!
Tape, forking lol.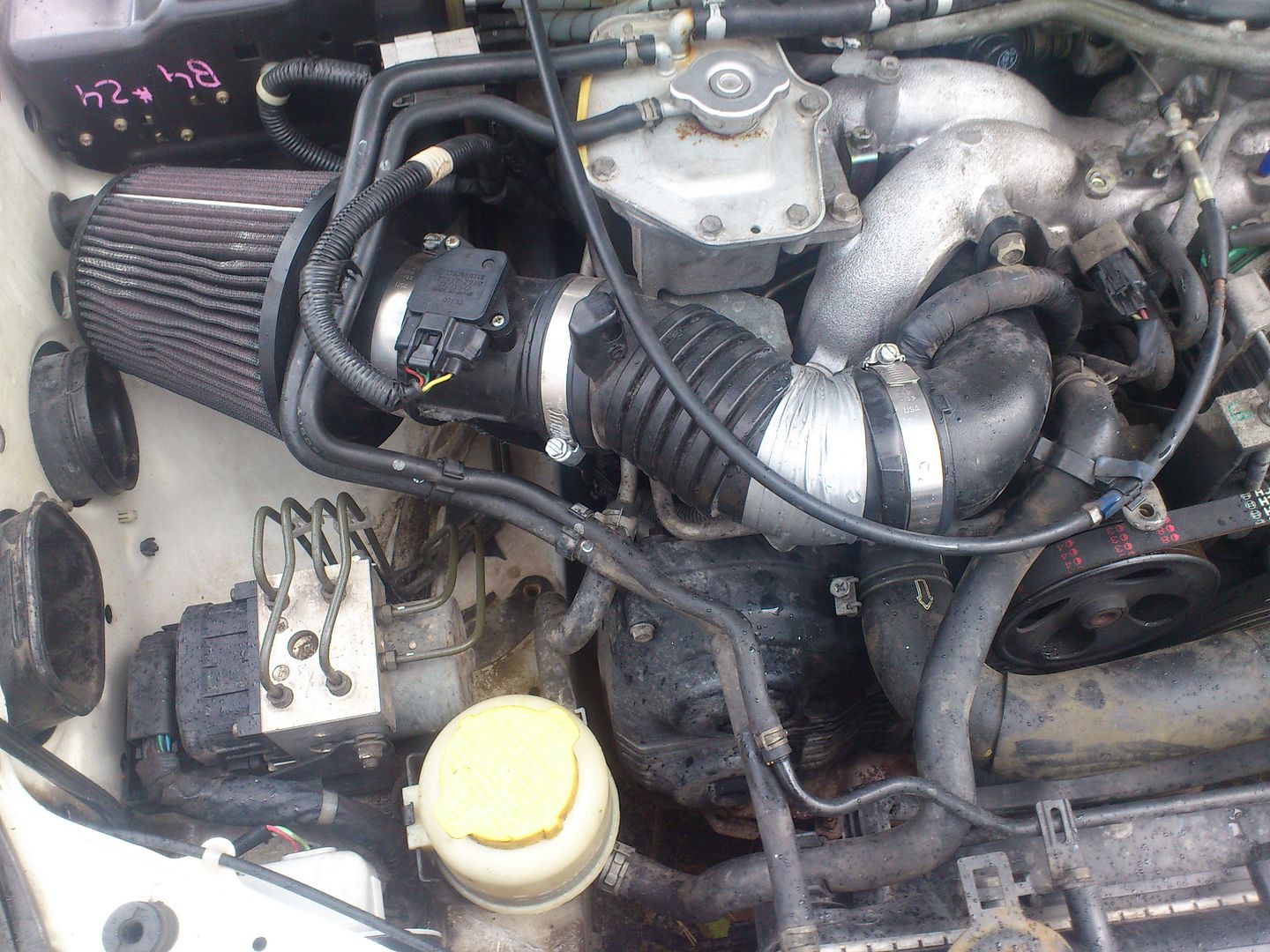 Cable ties at work.
And for the TT people, this next piece of improvisation is simply amazing!
The connecting rods of the ECV are held together by.... get this...
a piece of silicone hose, cable ties and what looks to be the metal sleeve off a concrete bolt.
The boost gauge is plumbed into the line to the brake booster. It leaks inside the car near the gauge itself, sounds hecktic.
Popping it's head out, behind and to the right of this creative plumbing, is a Turbosmart boost tee.
There's also another one on the secondary DPS line....WTF? 
AND THAT SAME LINE IS PLUMBED FROM THE DPS TO THE IACV !!!!!   So no boost or vac whatsoever (TT jibba jabba)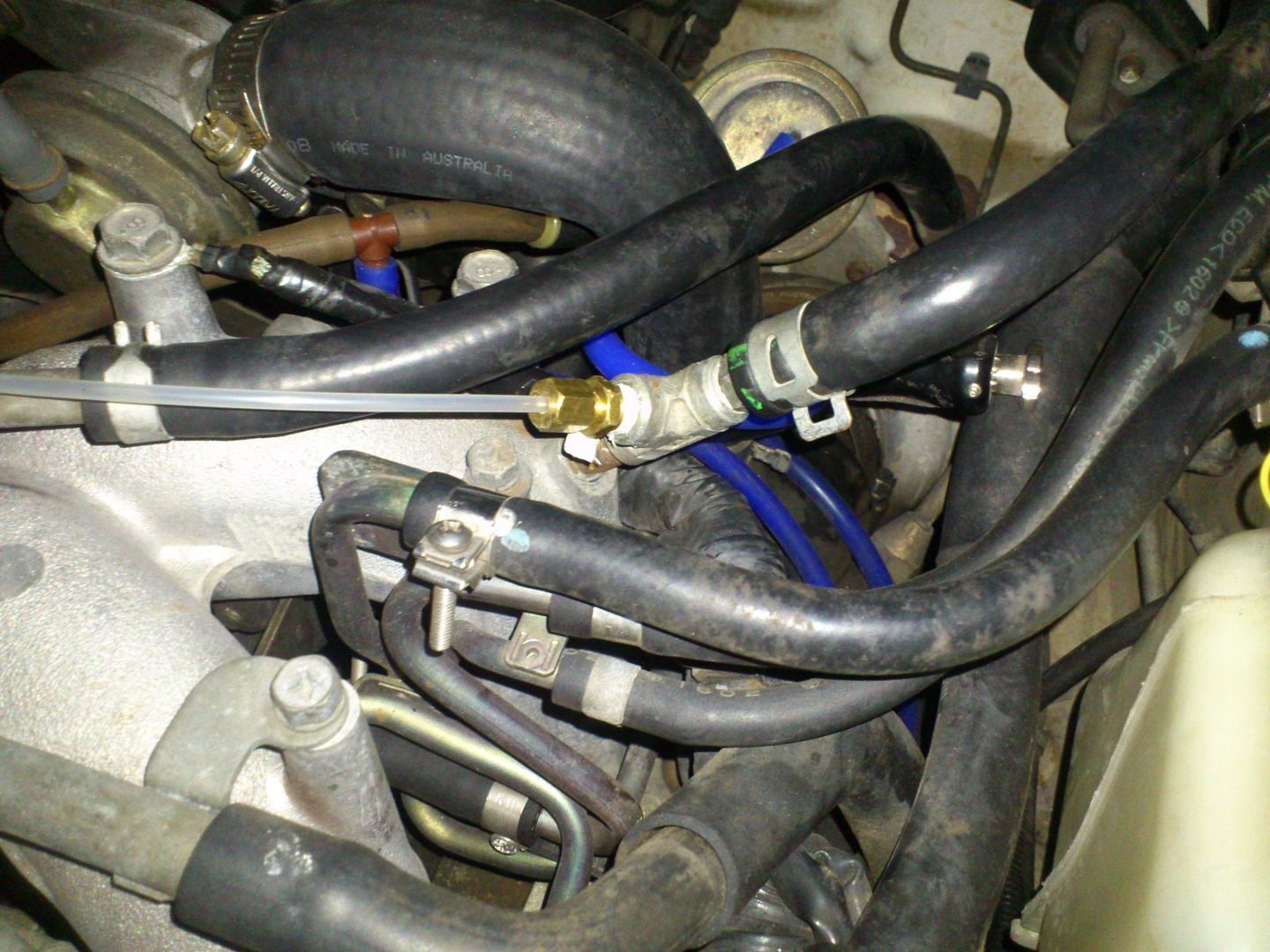 So there's lots of work to do and it's perfect timing that I'm wrecking my old Whitekong. I have all I need to get this thing back into it's former glory.
I know the engine has approx 150K not 280k as advertised
The gearbox is mint & it has a really good set of custom dump pipes and a good 3" exhaust.
The interior will be ok once it's cleaned & all the missing bits are replaced.
So much of Whitekong's remains will be donated to Hobokong,  this will be quite a Cinderella type story. 
Underneath all the abuse.... there is a beautiful B4 hiding. Trust me on that!