So, after sadly saying goodbye to my GT in August 2012, I picked up a slightly less elaborate family wagon - a MY99 Outback Limited with 200,000kms. Though almost every bush/mount was shot and bodywork left much to be desired (being quite a rough country car) it did tick the few boxes I was after white limited edition with leather seats and sunroof.
 
The day I picked it up in Melbourne:
 

 
The day after driving it back from Melbourne (under a temporary permit as I bought it unregistered) I carried out a stage 1 weight reduction a high pressure wash to get rid of all that awful outback NSW red dirt/clay from the undercarriage.
 
I then set about checking things over to make sure my visit to Regency to get this thing registered would be hassle-free. Among other little things, the front brake pads had seen better days and the rotors were a complete mess. So I picked up a set of WRX 4 pots and some RDA slotted rotors to fix that little issue. The callipers got a complete overhaul, raised lettering removed and some gloss black paint.
 
Id picked up Marks (Cruisn) Work rims, which were on his Outback, about a month earlier in anticipation of buying an Outback and fitting them. So these were also fitted to make room for the 4 pots. I also resolved to have the lower trim repainted in Subaru 49B slate grey metallic to match the wheels sounds crazy painting the car to match the wheels I know, but I really love the colour.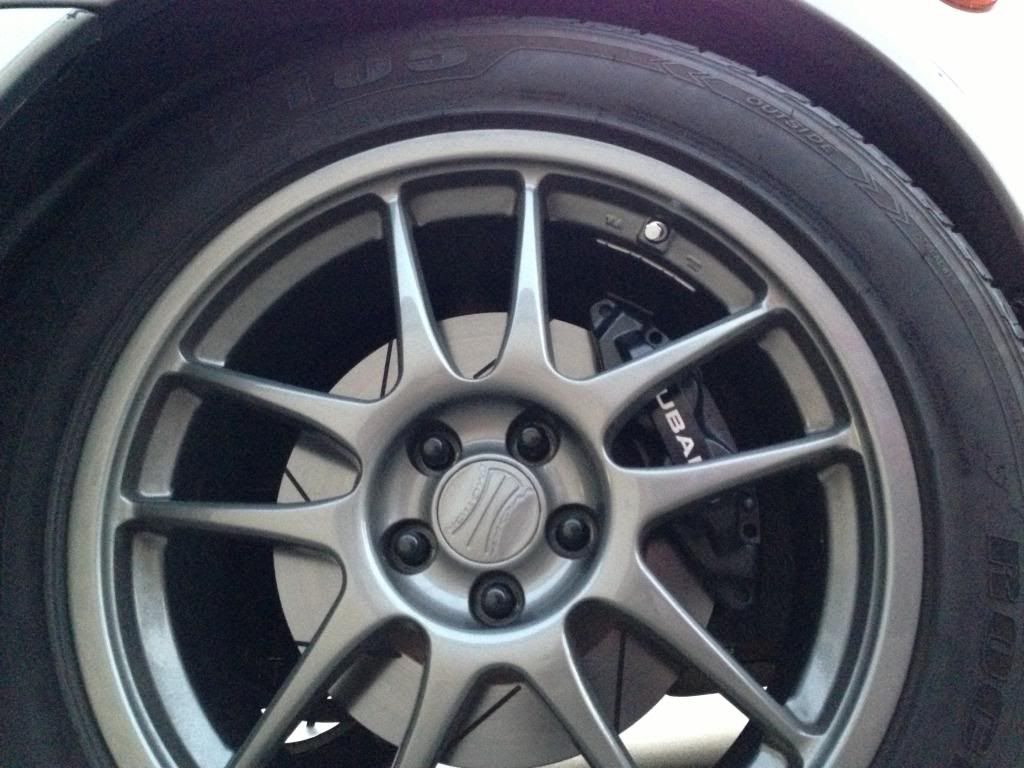 Got through Regency with no issues at all.
 
Over the next couple of months the car was my daily driver, but I really was missing the excitement of my 208kw atw MY08 GT, so my intentions to give it a new heart were realised a little earlier than I had originally envisaged. Exit 115kw EJ25 enter 208kw EJ208 TT and many hours in the garage! While the MY00 Legacy GTBs 208kw at the flywheel is not remotely comparable to the 208kw atw in my GT, it is streaks ahead of the MY08 GT in stock form. Thanks to Ichiban for the halfcut!
 
So over December 2012/January 2013 it all happened. Swapped in the wiring loom, ecu, engine, gearbox and other peripherals without too much hassle and completed the relevant servicing. While the car was sitting on blocks, I also did a complete delift, leaving the standard outback struts in for roadworthy. Engine ran like a charm straight up only after Karl coming round to show me that it has a clutch switch, so I had to have the clutch in to start it (had me stumped for quite a while trying to work out why it wasnt turning over).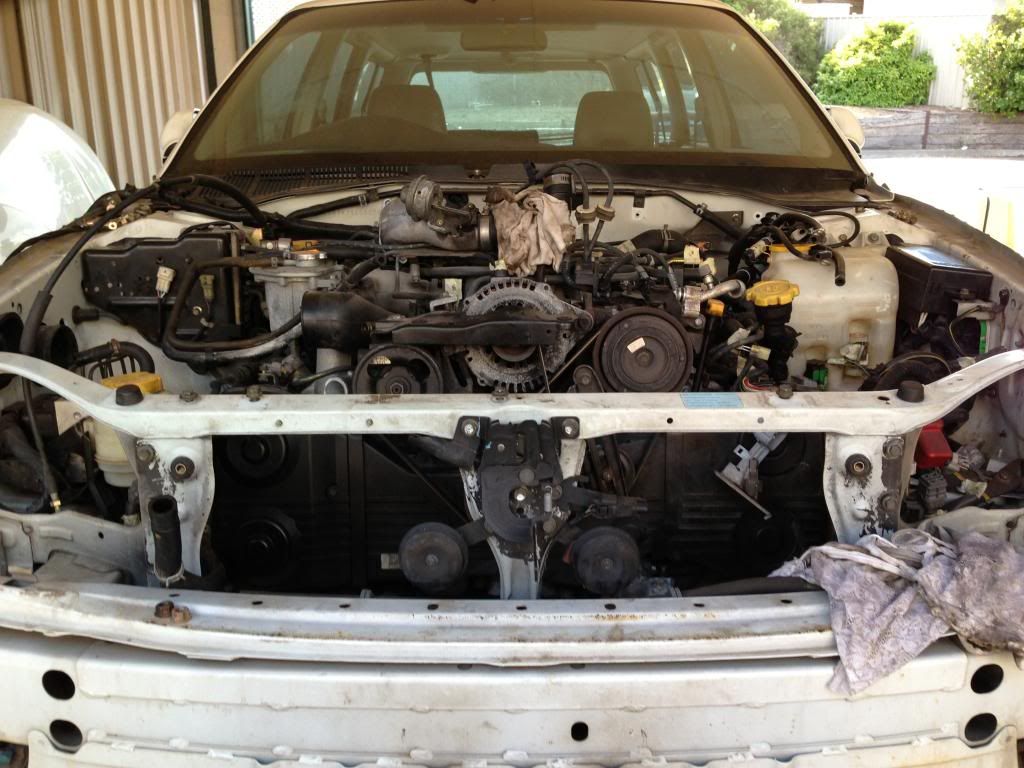 Once on the road it was apparent (after about 10 minutes of driving, 15 minutes of signing up to RAA and an hour waiting for a tow truck) that the drive ratios were out as the 4.444 GTB centre wasnt keen on the 4.111 Outback rear diff. Thanks again to Ichiban for sending out the matching 4.444 rear diff and solving that problem for me. There were a few other things that needed troubleshooting along the way too.
 
So March 2013 saw it over the pits first try (window tint removal and swapping HIDs back to Halogen globes on the spot were the only issues) and certificate of exemption was issued shortly after.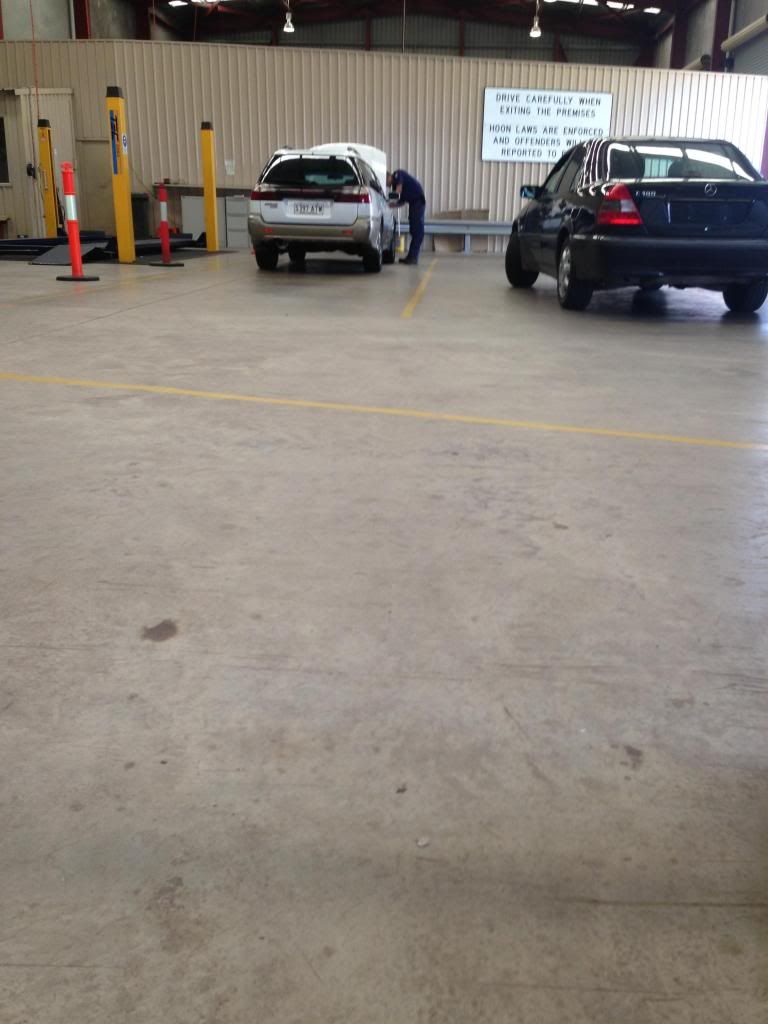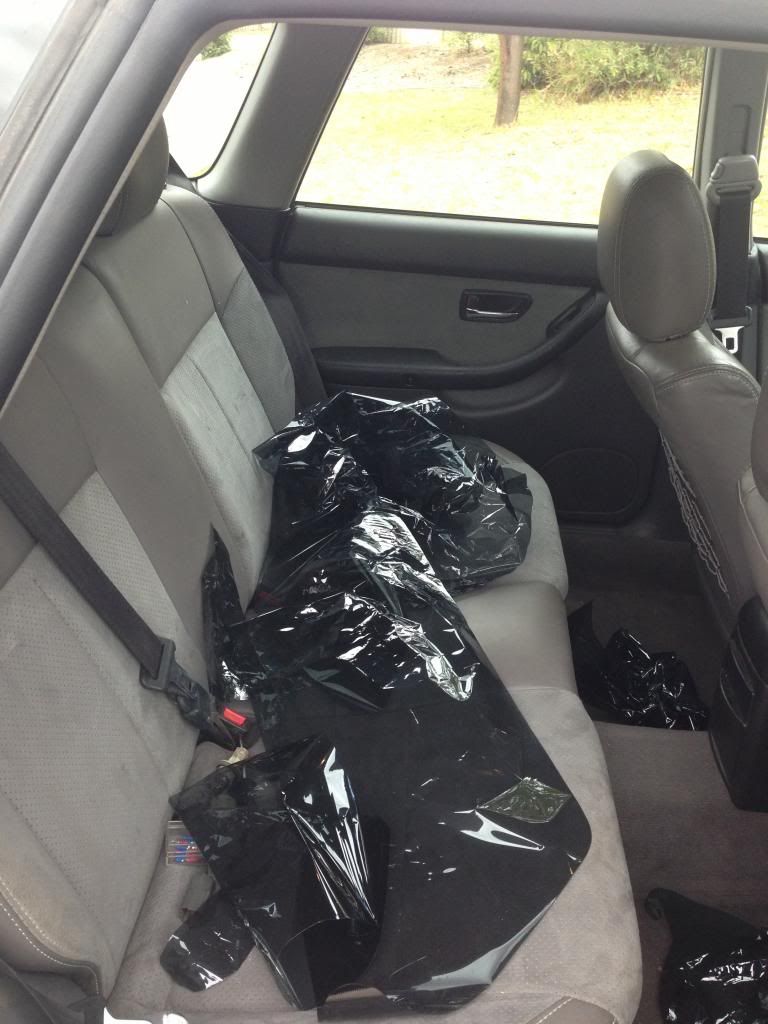 Since then it has just been a matter of maintaining/upgrading and tidying up little bits and pieces.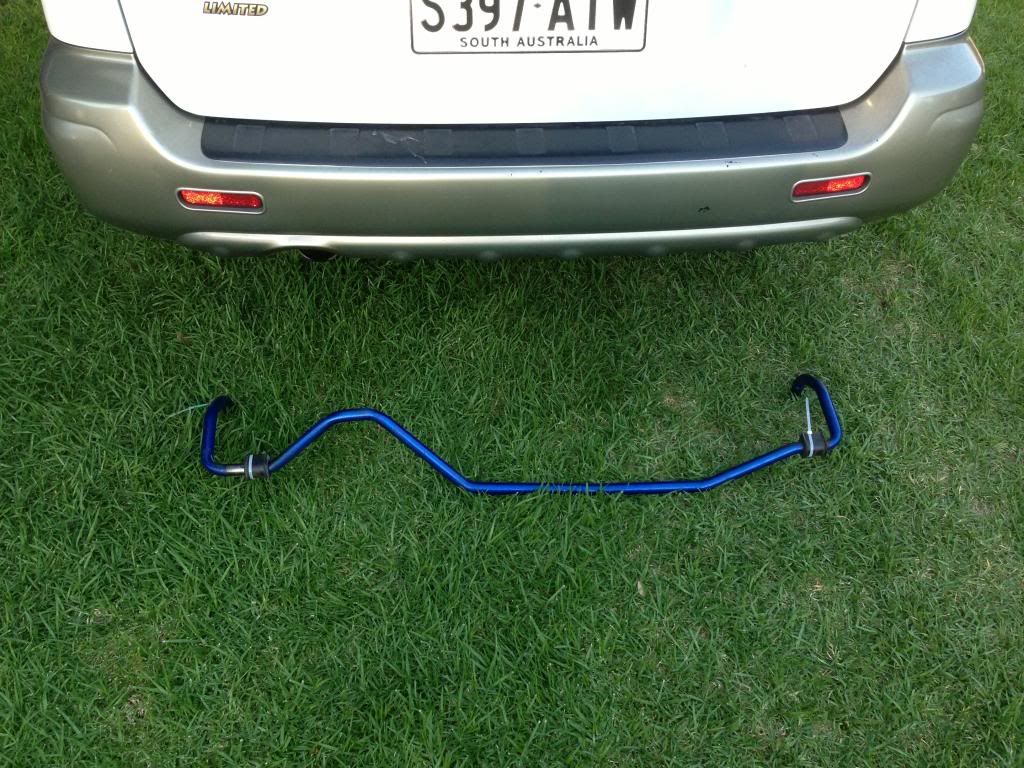 I played with the idea of installing a fmic, but ended up deciding to stick with top mount. Ive tried to purchase 2 turbo bonnets, but on both occasions they have been significantly damaged in transit which has been a headache to say the least! Recently Ive upgraded to the RevD front end and done some work on the cosmetic and handling side of things including having most of the lower trim repainted in 49B. Also made some purchases through import monster Syms diff back, GTB rear wing and RevD HIDs all of which are now installed.
 
Below is a more comprehensive list of mods:
 
Conversion
- 2000 JDM Legacy GTB 2.0L Twin Turbo (VF26 and VF27)
- Legacy 5 speed manual gearbox 4.444
- Legacy 4.444 rear LSD
 
Performance
- Syms diff-back exhaust
- Custom 3" turbo back exhaust with high flow cat and 2.5" primary dump
- HKS panel filter
- DW65c fuel pump
- ZeroSports Bonnet Splitter
- 800CC High flowed injectors and upgraded fuel lines
- Eculabs ECU with multi-maps (E85/98) and launch control
- Exedy HD clutch
- Braided clutch line
Handling
- GC8 STI RA 2.2 turn steering rack
- Alloy front lower control arms
- Whiteline front endlinks
- Replaced shifter joint with new OEM
- Whiteline rear diff bushes
- 20mm B4 front sway bar and links
- 22mm Cusco rear sway bar
- Full delift
- Apexi N1 Coilovers
- Bridgestone Potenza RE003 tyres in 225/50/R17
 
Braking
- Brembo 4 pot front and 2 pot rear callipers (WR blue with white lettering)
- DBA T3 slotted front and T2 slotted rear rotors
- Project mu pads
- HEL braided lines
 
Cosmetic
- Work Emotion CR 17x7.5 +45
- JDM HID headlights (Rev D)
- JDM GTB/RSK black dash trim
- Black lug nuts
- JDM GTB rear wing
- Series 2 front end
- Alloy RSK Bonnet
- Liberty mirrors
- Newsouth Performance boost gauge
- Silicone vacuum and throttle body hoses
- Strut top covers
- Momo steering wheel
 
And some pics:

 
Still a bit of work to go tidying bodywork up.
 
Thanks for looking!
 
Josh